Review: Don't like people too much in 'Battle: Los Angeles'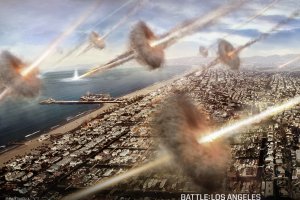 Battle: Los Angeles is a very good movie about one company in the Marine Corps fighting a whole military of aliens in, of course, Los Angeles.
Lieutenant (Lt.) Martinez and his company were sent to find civilians in a police station after the alien attack. There were three kids and their parents. After the civilians were rescued, four men set out on a helicopter. Once in the sky, the copter blew up. Four men were dead. This is a movie in which you can't exactly like people.
The rest of the soldiers take a bus back (meaning they found a working bus and drove there). On the way, they found out that the aliens had drones blowing up everything. On a freeway, they got ambushed and Lt. Martinez was forced to blow up the bus, with him inside.
When the rest of the group got to the base at Santa Monica Airport, they found that everything had been destroyed.  Then they saw the city burning. They then went into the city and found the control center under the ground. They called in the air strike to blow it up. It finally worked. Do they make it back? You just have to watch.
About the Contributor
Daniel Bernstein, A&E Editor
I was born in New York City on Jan. 31, 2001. I love football. I am a huge Giants fan. I like to act, and I've done six plays. I want to be in a movie...