PMS jazz band plays great concert for Colonial students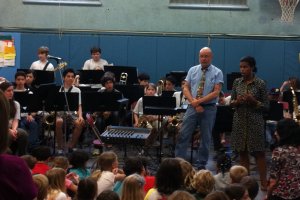 COLONIAL GYM — The Pelham Middle School jazz band performed here on May 19.
One of the songs they did was the Charlie Brown theme song. It was much longer than the usual song, because they only play 30 seconds on the TV shows. The band also did the theme song to George Lopez. Two songs everybody loved were by the Beatles: Hard Days Night, and Yesterday. Who doesn't love the Beatles?
Remember, this is the jazz band. There are two PMS bands–regular and jazz. It gets confusing at times.
"The first and largest one is the regular band," said Adam Rubock, an eighth grader who plays trumpet, in an interview after the concert. "Separated into each grade, they play a bit of jazz and classical music, nothing like Mozart. The second band is the jazz band, where the best players audition to play in the jazz band. Twenty-five people usually get in."
Adam said, "I wanted to audition because I wanted something memorable and wanted to be challenged. You will remember this for the rest of your life."
The show was really good. Overall the turnout was awesome.
About the Contributor
Sam Rodd, Community Editor
Hey, I'm Sam. I joined newspaper because I've always wanted to do newspaper. I like to do plays and play with Legos. I am in fifth grade and love...