Many students excited to see 'Pitch Perfect 3,' pick their favorite characters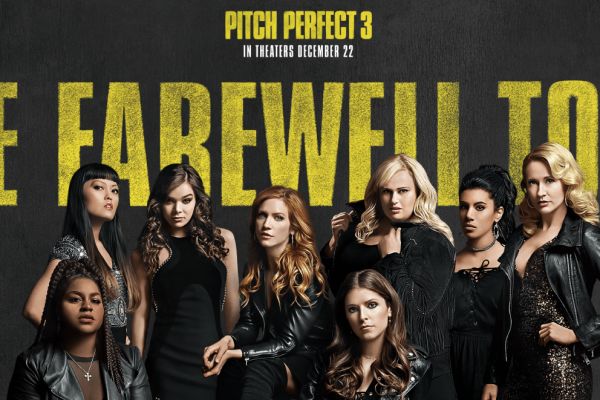 Hang on for a minute...we're trying to find some more stories you might like.
COLONIAL — "Pitch Perfect 3" is a new movie coming out soon. Colonial Cougars shared their opinions on the first movie, if they think the first one was better than the second—or the other way around—and if they are looking forward to the third "Pitch Perfect."
Fat Amy was one of everyone's favorite characters. Fat Amy's real name is Patricia, and she calls herself Fat Amy so people can not talk about her behind her back. She is very popular for her humor and modesty.
"I liked the first movie more because Aubrey was there more, and Becca and Jesse meet and like each other," said Ms. Hudson, an intern in fifth grade."I like Benji the best."
Lila Berkery (5S) liked the first movie because the boy's a cappella group (The Treble-makers) "are very funny. I liked the second movie because of the new girl and that they went to the camp to find Aubrey."
"I liked the second movie more because the Bellas try to win the National's and they do!" said Bella Cross (5S). "My favorite character is Jesse because he is funny."
Many people had great guesses on what would happen in the third movie:
"They will become stars."
"Reunion."
"Or maybe the next generation of Bellas."
"Pitch Perfect" is a loved movie series all around. Go see the movie on Dec. 22.

About the Writer
Sabine Bushong, Our Town Editor
Hello!! I am Sabine Bushong. I enjoy newspaper and dance, and yoga. My favorite color is rose gold. I was born in 2007. I am the youngest of three kids in a family of five. I was born in a  hospital in New York and love NYC's pretzels (with spicy mustard), falafel, bubble tea and hot dogs (again, with spicy mustard).. 🙂 I have two cats named Teddy (Theodore, but we call him Theo or Teddy) and Vivi (Jenaveve), also an adorable dog named Kiki. . Read more of my stories. I am Sabine Bushong, Our Town Editor.