We were 'True to Heart' in Pelham movie shoot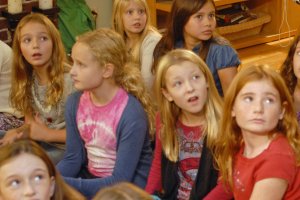 PELHAM MANOR — Nora McGowan, Julia Loughman, Helena White and I were extras in the upcoming movie, "True to the Heart." The scenes were filmed in two houses in Pelham on Oct. 19. We played the part of guests at two birthday parties.
Our job was to act bored in two birthday-party scenes while a musician played guitar and sang. There were about 20 girls who were extras. A make-up artist gave each of us a touch-up and fixed our hair before we were on camera. We spent a lot of time waiting around while other scenes were shot.
There was a lot of equipment needed to film the production, including cameras, lights and microphones. There were many people on the crew who ran the equipment and a director who told the actors what to do.
Julia said the movie was "a good experience," while Nora called it "a very fun experience!" I thought the whole thing was awesome!!!!!  Helena said, "Super fun!"
We loved being a part of a movie shoot. It was a lot of fun. We are very excited to see our scenes and our names in the screen credits in a movie theater someday. We would all love to be in another movie if we ever have the chance.
"True to the Heart" is a quirky romantic comedy about love and music, according to the movie's Facebook page. It is going to be released this Spring.