Nantucket: Beaches, a ghost tour, restaurants and best ice cream EVER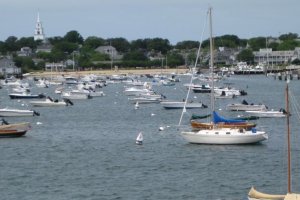 NANTUCKET, MASSACHUSETTS — My sister Quinn, my mom and I arrived in Nantucket around lunch on Aug. 6, but our cousins didn't arrive until 5 p.m. After we got there, we went shopping, and after that, we went to a small sandwich shop called  Walter's. After lunch, we went shopping because we couldn't  go to the house on Curlew Court until 3 p.m.Thinking that the taxi ride to the house would be longer, we got there at ten to three, but we went in anyway. For dinner, we ate at a place called Sea Grille. My mom said the three of us were going to the Fog (short for Fog Island Cafe) every day for breakfast.The next day, we did go to the Fog. It was rainy, so my cousins took me to Sconset. My mom and Quinn went shopping in Sconset; we got lunch, went to a beach, but when we got there, it started pouring and we went home. For dinner, we went to our other cousins' house, and we had spaghetti and sauce.On the third day, we were going to go with my other cousins to the aquarium while the cousins that we shared the house with went on a hidden Nantucket tour. We followed directions to the wrong place and learned that you had to make reservations before you go (the next opening wasn't for another week and a half). It was sunny, so we went to a beach called 40th Pole. We ordered lunch and picked it up from this place called Something Natural.
We were at the beach all day long and went to a place called Cy's, then we took a ghost tour—it was scary—then we went to (the best) ice cream place EVER, the Juice Bar. One time, the line went around two corners.
The fourth day we went to the Fog then to 40th Pole then to a restaurant called the Brotherhood of Thieves, then to the Juice Bar. I felt TERRIBLE. I had the WORST headache ever!  >:(   My mom gave me Tylenol, and we went to bed.
The fifth day, I had a headache so we did not go to the Fog. But around lunch, I was feeling better, so we went to a beach called Nobadeer. For dinner, we ate at a place called Quequegs, then the Juice Bar after.
On the day after, we went to the Fog, then spent the day at Nobadeer. We went home and got Thai food take out. (I got a burger.) After, we visited the Juice Bar and went to bed.
On our last day, we went to the Fog, to the beach and to Walters (sandwiches for the road). We visited the Juice Bar to get ice cream in large cups and headed for the docks.
PS: On our trip in Nantucket, we saw people from far west as California and as far north as Canada.
About the Contributor
Peyton Rees, News Editor
Hi! I really like sleeping and soccer. My favorite food is brownie batter! I really like being an editor and I can't wait for middle school! I love being...