Pelham Library kicks off summer reading with party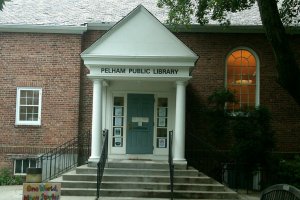 PELHAM MANOR — The Pelham Public Library kicked off its summer reading program with a party on June 24.
This year, you read three books that are at your grade level to get one stamp; you get three stamps for one prize out of the treasure chest, and once you sign up, you get a free goodie bag. The goodie bag contains one small bottle of soapy water to make bubbles, one pencil that says "library pencil," a bookmark that has Town of Pelham Public Library printed on it, and a book.
The book for fourth graders going into fifth grade is Two Tickets To Freedom by Florence B. Freedman and is the true story about William and Ellen Craft, two fugitive slaves. It is a biography of their lives, from when they were born to when they died. The goodie bag itself had "One World, Many Stories" printed on it and has a picture of a girl sitting on some kind of exotic bird, reading a book to the bird, and an elephant lying down reading a book. The picture and words encourage people of all ages (especially children) to read.
Robert Rivest, a mime, performed at the party. He was trained in Paris by the famous Marcel Marceau. He told a few stories using mime and picked some volunteers. He told a story from Africa called Anansi the Spider, as well as a Greek tale and the Tortoise and the Hare.
"I love that I can tell stories from around the world for people without using language," Mr. Rivest said. "I enjoy laughter, just seeing people laugh."
Anyone interested can go to rivestmime.com and find a biography about him and other information about shows, fees and more.
Library Lil, as she is nicknamed, is the librarian who goes around to Pelham schools telling all the students about the summer reading program.
"I've been doing this program ever since I've been here, which is ten years," said Library Lil. "I don't know how long the program has been here, but I've been doing it ever since I became a librarian here."
The library has certain summer activities for kids planned out for every day of the week except Friday, Saturday, Sunday and holidays.
About the Contributor
Daniella Cherner, News Editor
Hello, my name is Daniella Cherner and I am 11 years old. I live in Pelham, and I am a news editor for the Colonial Times. I love to play outside and...