St. Petersburg artillery museum shows weapons from medieval times to now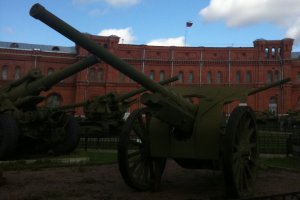 ST. PETERSBURG, RUSSIA — The Museum of Artillery, Engineers and Signals here has weapons dating back to medieval times up to modern times.
There are more than 200 weapons in the museum, including cannons and swords.
The museum used to be an arsenal for storing weapons. They show you weapons and supplies the Russians used in World War II.
Outside, I saw a missile-launcher truck that launched three missiles. I also saw a tank.
About the Contributor
Patrick Zahradnik, Staff Reporter
I was born in Russia on January 19, 2001. I was very intelligent and cute, so do you like me now? My dad, Rich Zahradnik, runs the newspaper club. A...