School awarded 20-minute dance parties as first GROWLing prize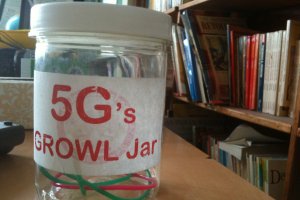 COLONIAL SCHOOL — Mrs. Wilson kept her promise. The whole school filled their GROWL ring jars and a school-wide prize occurred—a 20-minute dance party.
Mrs. Wilson thought it went well and said more is coming. "I've got exciting things planned," she said. But she won't tell any students what.
When students GROWL, or are good in common spaces, they get rings in their class jars. When a class jar is filled, the class gets a prize. And once all the classes filled their jars, everyone got the school-wide prize, which was the dance party. "GROWL" is important. Colonial students need to be good and friendly in school and behave, and this program helps kids do that.
Mrs. Wilson said she is proud of Colonial. She thinks everyone is progressing in common spaces. She added next time there is a school-wide prize, every class must have filled their jar three times. She said she chose a dance party because she wanted to pick something everyone would like.
We interviewed some students and here's what they said:
"I don't think that they should tell us when it happens—just a minute before," said Carolina Juana, 4M.
"I think it should be longer, maybe like 40 minutes," said Helena White, 4M.
This is what GROWL stands for:
Give their best
Respect each other
Organize
Work and play safely
Love their school
About the Contributors
Francesca Di Cristofano, News Editor
I'm Francesca Di Cristofano
I'm 11. I swim.  My favorite type of food is Japanese even if I'm Italian. Math is my favorite subject. My favorite...
Daniel Bernstein, A&E Editor
I was born in New York City on Jan. 31, 2001. I love football. I am a huge Giants fan. I like to act, and I've done six plays. I want to be in a movie...