PTA's next major project to be Pasta Night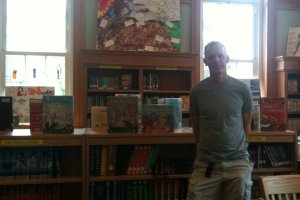 COLONIAL SCHOOL — The PTA's next big project is Pasta Night this Friday, said PTA Co-President Brian MacColl. Planning Pasta Night is challenging, but it is very fun and successful, he said.
Mr. MacColl has been in the PTA for five years and this is his last year at Colonial. He revealed he will be co-president of the Pelham Middle School PTA next year.
The most successful project this year was the Colonial School Book Fair, Mr. MacColl said. The PTA raises money for teachers to buy things for their classes. The PTA recently bought the third grade some books for their book clubs and purchased new books for the library.
Mr. MacColl said he enjoys a lot about the PTA, including writing the newsletter, meeting new people, the Welcome Back Picnic in September, being around kids and helping his son Eli, who is in 5V.
Mr. MacColl said he likes being in the Colonial School building because it has a nice, cozy environment, and he sometimes gets to see Eli. He also loves the new Colonial School library.
There are 60 people in the Colonial School PTA. Their goal is to make the learning environment at Colonial better. The PTA is working on the Pelham school budget for next year. Everyone in Pelham can vote on the school budget today.