Student Government campaigns for better behavior in restrooms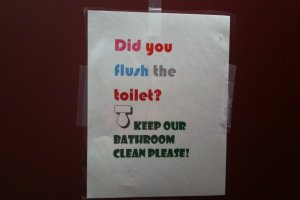 COLONIAL SCHOOL — Student Government strikes again. The last event Student Government is running this year is for the bathrooms.
Student Government representatives held an assembly in the gym on May 17 to talk about better behavior in the bathrooms.
"First, we tried to work on the bathrooms and make them clean," said Mrs. Norman, who is adviser to Student Government. "It was a success for a couple of months, but then students started tearing the signs."
Other events that took place this year were the Pennies for Patients fundraiser and the Earth Day walk to school.
"We worked at the Pennies for Patients campaign and we raised $3,500," Mrs. Norman said. "2A raised the most money and received a pizza party. Now we just did the Earth Day walk. There were four stations at certain areas around Pelham."
Student Government President Timmy Solimine (5G) said "the Earth Day walk went very well. Not everyone did it, but at least some people did. I think that after this (bathroom) assembly, some people will stop but others won't listen."
During the Earth Day walk, representatives from government stood at the four stations in the Colonial neighborhoods and guided the march to school.
"I liked being a captain for the Earth Day walk," said Class Representative Maggie Solimine (4C). "I liked it because it was fun being in charge with my brother and my friend. It was hard because we had to try and keep everyone out of the street and behind us."
She added "it was hard to do all the counting" for Pennies for Patients, but the effort led to success.
About the Contributor
Francesca Di Cristofano, News Editor
I'm Francesca Di Cristofano
I'm 11. I swim.  My favorite type of food is Japanese even if I'm Italian. Math is my favorite subject. My favorite...