Game Day wins with 184 kid votes during Pelham school-budget election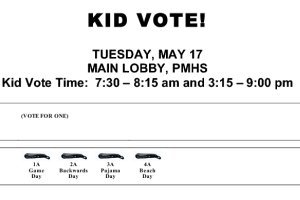 PMHS — Children from the four Pelham elementary schools voted for Game Day during the kids' vote held as part of the school-budget election.
The kids' vote occurred at the high school on May 17 from 7:30 to 8:15 am and 3:15 to 9 pm. There were four choices: Game Day, Beach Day, Pajama Day and Backwards Day. Game Day won with 184 votes, while second place went to Beach Day (144 votes). Pajama Day came in third place with 109 votes, and last but not least was Backwards Day (103 votes).
"The kids should vote so they can have their voices heard," said Principal Wilson.
On Game Day, people will either get to play  games with there whole class or bring in a game. This is up to the teachers. They will decide what their class will be doing. Game Day will be near the end of school.
In the adult vote on the same day, Pelham voters approved the school district's budget for next year.
About the Contributor
Manon Bushong, People Editor
My name is Manon Bushong. I'm in fifth grade and an editor for this paper. My favorite sport that I play is basketball, but also like soccer and lacrosse....