Colonial School 24-team champions after beating district's three other schools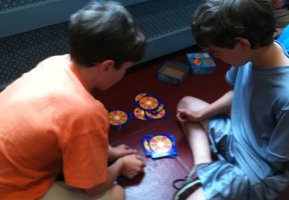 COLONIAL GYM– Colonial School won the 24 Club Tournament against all the other Pelham elementary schools on May 17.
The school champion of 24 was fifth grader Patrick Shiels of the Colonial team. The school champion for Siwanoy was fourth-grader Megan Stevens, who was part of an all-girls team from that school. The Prospect Hill champion was George Dunhill, and the Hutchinson champion was Thomas Kim.
The kids who made it on the Colonial team were Patrick Shiels, Nicklas Breskin, Nicholas Neu, Cameron Catana, Quin Crowley, and Patrick Roche.
"I was happy and excited," said Patrick Shiels. "I really wanted it, and it was hard. I make up 24 cards in my head in my free time as my strategy"
The trophy is at Colonial, so that is where the championship will take place next year. Mrs.Albano said Colonial has won the trophy twice while she was adviser. She said Mrs.Carlson helped this year and brought her Siwanoy skills to Colonial.
About the Contributor
Claudia Dodge, Sports Editor
Hi my name is Claudia Dodge and I love being part of the newspaper for the second year and being a sports editor. I am in fifth grade. I love playing lacrosse...