Fourth grade takes lessons on immigration to America's famous gateway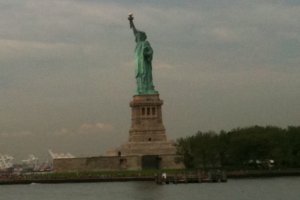 ELLIS ISLAND – The fourth graders at Colonial School went on a field trip here after learning about immigrants in class.
At Ellis Island, they were allowed to try to track down their families from long ago, and see pictures of what immigrants looked like in their home countries and how they lived in America.
"If you have the information, you can go outside and find the names" of relatives on the Ellis Island wall, said Mr. Martucci, a fourth-grade teacher.
In social studies, the fourth grade learned about immigrants and Ellis Island, so they took a field trip there after doing an Ellis Island simulation in school last week. The students had a one-hour-and-20-minute bus ride and a 20-minute ferry ride to the island, and then they got to do what they wanted with their parents.
Here's what some of the students said about the field trip:
Madeleine Mullany, 4C, liked  "the dorm rooms because people actually slept there."
The wall was the favorite part of the visit for Helena White, 4M. "It's a big wall with names of immigrants who came there," she said. "And you can see your ancestors' names."
Lindsay McNamara, 4L, found her family's name on the wall. "There were a lot of McNamaras."
"There was one Bushong and a lot of Hansens," said Manon Bushong, 4L. Hansen is her mother's maiden name.
The first immigrant to land on Ellis Island was 15-year-old Annie Moore from Ireland. She got a $10 gold piece. Landfill was used to make Ellis Island bigger as more immigrants came. When the buildings were no longer needed, and they were falling apart, a group called the Statue of Liberty-Ellis Island Foundation worked to restore them. It took $160 million to repair the place.
Here's what the adults thought about the visit:
"I'm having lots of fun," said Rudabah Hasan. "It's a very beautiful day."
"It is much more comfortable than getting to Ellis Island in steerage," said Mary Alice Brenner. "I liked the poem about the Statue of Liberty."
"It is my third time, and I love it. It's amazing what our ancestors went through," said Emmanuelle Francoy-Rivera.
"I've been a couple of times," said Antonio Di Cristofano. "It was very emotional because my grandfather went through it."
Ellis Island is called the Island of Tears because people could be sent back to their homeland, and if they got accepted, they would get to live in America. But it wasn't great for everyone. For example, one immigrant said, "Well, I came to America because I heard the streets were paved with gold. When I got there, I found out three things: first, the streets weren't paved with gold; second, they weren't paved at all; third, I was expected to pave them."
Contributing to this story were Manon Bushong, Lindsay McNamara, Peyton Rees, Daniel Bernstein, Claudia Dodge, Daniella Cherner, Nora McGowan, Francesca Di Cristofano, Henry Driesen and Sam Rodd.
View Comments (7)