Consulate-General of Japan accepts books of hope from Colonial students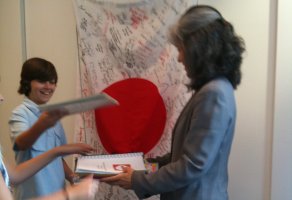 NEW YORK – The Consulate-General of Japan today received the books of hope that Colonial students made for kids in Japan affected by the earthquake and tsunami. The books were delivered by six reporters from the Colonial Times to Consul Rumiko Ishigami at the consulate's offices in 299 Park Avenue.
All of the students at Colonial School wrote letters for the books—16 books in total. Each student wrote what they thought hope is. For example, hope is to never to give up and keep trying until you make it to the top.
Ms Ishigami accepted the books in a room where other messages sent by students to the people of Japan were on display. "What (Japanese children) need is shelter and money, but what they really need is things that are good for the heart," said Ms Ishigami.
"We have received many paper cranes and letters, and also kids have been having fundraisers to raise money for Japan," said Ms Ishigami.
The consulate general deals with the economic and cultural affairs of its country and helps citizens of Japan when they have trouble during visits in the United States, she said: "If someone loses their passport, the consulate will help, and if someone is robbed, the consulate will help."
Before visiting the consulate-general, the reporters met with Claire Atkinson, media-industry reporter for the New York Post, and Rich Huff, television editor for the Daily News.
Journalism "is the greatest job that anyone can have," said Mr. Huff. He talked about how reporters must file stories on deadline: "I've written on trains, on my blackberry, and I've written on my Blackberry on trains."
Contributing to this story were Henry Driesen, Helena White, Sam Rodd, Lindsay McNamara, Alexandra Broege and Patrick Zahradnik.