Phoebe Rothschild wins Time 4 Kids competition; essay to be published in Dec. 16 edition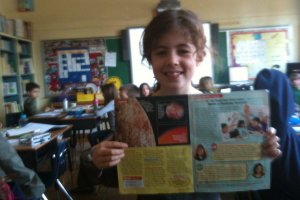 CLASSROOM 4M — Phoebe Rothschild won a written debate competition held by Time for Kids, and her essay will be published in the Dec. 16 issue of the magazine, which is the student edition of Time.
The topic Phoebe submitted an essay on was, "Is It Good for Students To Be In Boy Only and Girl Only Schools?" There was a "yes" section and a "no" section, and Phoebe won with her "no" essay. A "yes" winner will be published alongside her answer.
Phoebe said it all started when Mr. Martucci gave the essay as an assignment for extra credit. "If it weren't for Mr. Martucci, I would have never entered," said Phoebe.
"When I won, I felt like I won the lottery, and I never expected to win, especially when there are millions of kids out there that enter this contest," she said. "I think TFKis a great way for kids to get caught up in the world's latest news. It also felt good to win something competitive."
Mr. Martucci said he "gave this assignment because it's a good way to write persuasive writing. I knew there were good writers in the classroom, and that there were a few who might have the chance to win. It's good luck, just like the lottery, since so many kids participate."
The Bartow-Pell Mansion Museum will celebrate Phoebe's Time for Kids publishing success on Dec. 20 at 3 p.m, when it will host a local-author youth spotlight. The event will also offer decorated trees inspired by Christmas storybooks, storytelling and holiday treats.
View Comments (8)
About the Contributor
Emilia Privat, News Editor
Hi, my name is Emilia and this year I am a News Editor. I am in 5V.  My hobbies include soccer, reading, writing, and drawing. I enjoy the outdoors and...