Middle school is exciting place, but students need to be organized, says Mr. Longobardi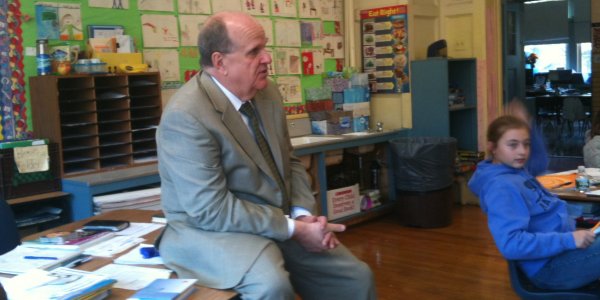 CLASSROOM 4M — Mr. Joseph Longobardi, principal of Pelham Middle School and former principal of Colonial School, said middle school is an exciting place and that students should practice being organized to prepare for life at PMS.
In an interview with the editors of the Colonial Times, Mr. Longobardi said organization is important because your middle school teachers can't always be with you, and you will have six or seven of them. Students have a locker and use different desks in different classrooms, he said.
"Middle school is an amazing place where kids can learn, have fun and meet friends," Mr. Longobardi said. "You must be prepared. The middle school is huge. It has about 700 students."
Colonial has around 300 students.
Mr. Longobardi, who served as principal of Colonial for nine years and 21 years so far as PMS principal, said he likes the job because he is able to work with all the students and "see their plays and games too."
He was a teacher before becoming Colonial's principal, teaching fourth, fifth and sixth grades at Hutchinson School, and at Pelham Junior High School (before it became the middle school).
Contributing to this story were Francesca Di Cristofano, Peyton Rees, Daniella Cherner, Claudia Dodge, Henry Driesen, Sam Rodd, Lindsay McNamara, Manon Bushong and Daniel Bernstein.
Publisher's note: Look out for our upcoming exclusive interview with Mr. Longobardi on the invention of pizza day.
Leave a Comment