Fourth grade journeys to American Indian territory without ever leaving school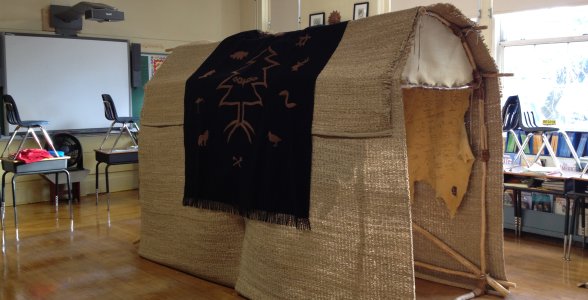 LIBRARY — The fourth-grade classes had an incredible visit with Bob Vetter, director of Journeys into American Indian Territory, and Jamie Reason, who is a Cherokee. Fourth-grade teacher Ronald Martucci described the visit as like a field trip coming to us.
The two fourth-grade classes have been learning about Native Americans with workbooks, but with this exciting visit, they got to see almost everything they had learned, live.
"Traditions are still alive today," said Mr. Vetter.
4M and 4C watched a movie in the school library that was about the Eastern Woodlands. Mr. Vetter made the movie about five years ago, and it took a few months to make
After the movie, Mr. Vetter told an Iroquois story about an old man who searched for shelter and tried to find a village that would actually believe in him. (Iroquois are another tribe of Native Americans.)
Two Indian games were taught to the students as well. One game involved deer skin, dice and dry corn.
In 4M, there was an example of a long house. A long house is from 40 to 200 feet in length, and 20 families can live in one. In 4M, the long house wasn't that big or long, but it did show the basic parts of it. The students even got to walk through it.
In 4C, both classes gathered once again, but this time to sing Indian songs. Some students were chosen to play the maracas.
The Iroquois held meetings when they needed to discuss something important  or choose a new leader. So like the Iroquois, 4M and 4C were given a topic to discuss.
Mr. Reason, a presenter from Journeys into American Indian Territory, showed how Indians lived. He demonstrated how Native Americans killed animals by using blow darts. He gave examples of how they ate too.
When Constance Kleiner (4M) and Aidan Czajka (4M) dressed up like the Indians as "role models," their bodies were covered from head to toe. It was different and unusual to see classmates dress differently, but it sure taught how the Native American peoples dressed long ago.
The fourth grade learned a lot from this special visit. These are some opinions based on what some students liked best:
"The maracas and singing was fun and exciting," said Morgan McLean (4C).
"Everything on display was really cool, especially the blow dart," said Luke Diffley (4M).
"I liked learning about Indians and enjoyed the long house," said Dane Crowley (4M).
"I liked the games and everything else was fun too," said Brianna Vinci (4M).
View Comments (2)
About the Contributor
Emilia Privat, News Editor
Hi, my name is Emilia and this year I am a News Editor. I am in 5V.  My hobbies include soccer, reading, writing, and drawing. I enjoy the outdoors and...