Scoop! Mr. Longobardi reveals the origins of Pizza Day
COLONIAL SCHOOL — Pelham Middle School Principal Joe Longobardi talked last month about the creation of  23-year-old Pizza Day.
The article about the first Pizza Day was found in the PTA newsletter, the Colonial Crier. It was published October 1988, and the newsletter was discovered in the office files by Mrs. Virginia Manganiello. According to the article, Mr. Longobardi and Mrs. Diana Fetta created the day as a fundraiser.
Mr. Longobardi, principal of Colonial before he went to PMS, said he started out making it a fundraiser to get money for new playground equipment, but it got so popular he had to continue it.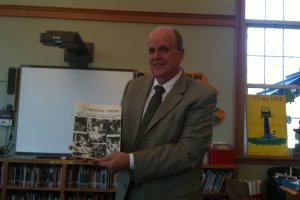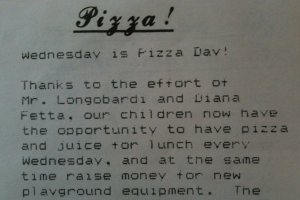 "Before Pizza Day, Colonial had no lunchroom," said Mr. Longobardi. "All the kids had to go home for lunch. And then they had the 'brown bag program.' Now, we sell pizza every day at the middle school" too.
Here's how the newly discovered October 1988 issue of the Colonial Crier announced the news:
"Wednesday is Pizza Day! Thanks to the effort of Mr. Longobardi and Diana Fetta, our children now have the opportunity to have pizza and juice for lunch every Wednesday, and at the same time raise money for the new playground equipment. The first day netted $90 toward our project."
About the Contributors
Francesca Di Cristofano, News Editor
I'm Francesca Di Cristofano
I'm 11. I swim.  My favorite type of food is Japanese even if I'm Italian. Math is my favorite subject. My favorite...
Claudia Dodge, Sports Editor
Hi my name is Claudia Dodge and I love being part of the newspaper for the second year and being a sports editor. I am in fifth grade. I love playing lacrosse...