Food drive needs canned goods, plastic containers, health products, no perishibles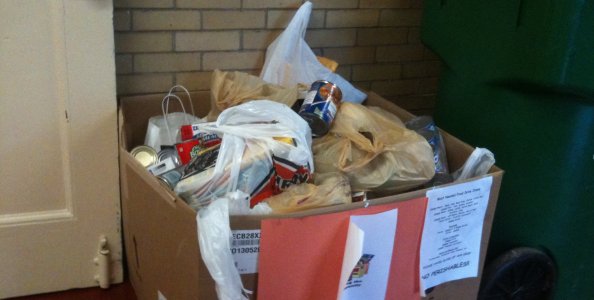 COLONIAL SCHOOL — The food drive has started and needs food more than anything.
According to the Pelham Teachers Association, one in five people worry about hunger in Westchester County . The Pelham Teachers Association is running the drive with the help of the Student Government Fundraising Committee. It goes from Jan. 17 to Feb. 3.
If you are going to give food to the drive, make sure it is canned. Meats, fish, beans, soups, ravioli, juices, fruits, veggies, tomatoes and sauce are all sought. Of course, bottled water is also needed. If you want to drop anything off, there is a big box filled with bags right outside the school office.
Claudia Dodge, Student Government second-vice president and head of the fundraising committee, said this is one of the projects for her committee. "We decided to have three committees (in student government), fundraising, lunch and logo," she said.
Items also being collected are health and beauty aids like toothbrushes, toothpaste, soap and shampoo. Make sure to avoid glass and no perishables. Donate today!
About the Contributor
Daniel Bernstein, A&E Editor
I was born in New York City on Jan. 31, 2001. I love football. I am a huge Giants fan. I like to act, and I've done six plays. I want to be in a movie...