Students vote to return to the old cougar logo as mascot
COLONIAL SCHOOL – Colonial Student Government had a vote for the school and the old logo is back! See what the school has to say.
"I had always thought that if they gave the old logo a chance, it would win," said Siobhan Joyce-Farley (5V). "I strongly support the logo change because the school board changed the logo without asking the school."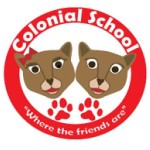 Student Government Vice President Maggie Solimine (5G) said, "I prefer the old logo. I think that it's more realistic and more of a mascot. I didn't like the new logo and others didn't either. Some people kind of liked it, but since many people didn't, I thought it would be changed back, and now it is."
Emma Lauria (5G) said the boy and girl logo that was replaced by the vote "is kiddy, it's for little kids. We should have a logo that represents us." She said the first day she saw the boy and girl cougars "I thought why did they change it?"
William Campisano (5GL) said the boy and girl logo was "pathetic. Cougars are suppposed to be fierce.
"I thought Mrs. Wilson changed it when she took over from Dr. Rothstein," he said. "I did not like the switch. Some things were better before, but the logo got worse."
When asked about the change, Kindergartner Erik Fontanella said, "I think it's funny."
About the Contributor
Peyton Rees, News Editor
Hi! I really like sleeping and soccer. My favorite food is brownie batter! I really like being an editor and I can't wait for middle school! I love being...