Phoebe, Callie, Julia take distance award on Recycling Raceway; Lynn, Brianna win for speed
COLONIAL SCHOOL — The Recycling Raceway was a success and the cars were creative and fun. Some cars slipped right off the inclined plane, which is a simple machine. Others zoomed down with some amazing results.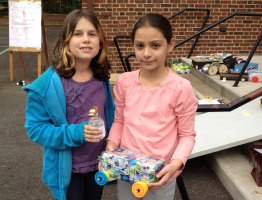 The speed/friction winner was the car made by Lynn Dvorkin and Brianna Vinci. Their box-shaped car beat Rishi Basu's rubber-band car by about an inch. But Julia Rosenberg, Callie Leff and Phoebe Rothschild's car soon raced by Lynn and Brianna's car to  make the final results:
Speed winners: Lynn and Brianna
Distance winners: Phoebe, Callie and Julia
Parent-division winner: Christian Privat (my dad)
I struggled through this assignment, but overall I think my "zucumber" did a good job even though it was one of the vehicles that slipped off. Mr. Martucci had to throw away my car because it was beginning to rot.
Congrats to all and hope you had fun!
Leave a Comment
About the Contributor
Emilia Privat, News Editor
Hi, my name is Emilia and this year I am a News Editor. I am in 5V.  My hobbies include soccer, reading, writing, and drawing. I enjoy the outdoors and...