Year in review: Fifth grade field trips down memory lane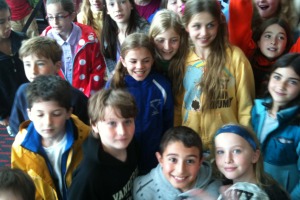 As the year is coming to an end, fifth graders start to think about all the fun trips they took as a class. They went on three field trips so far in the year: Lincoln Center, St. Paul's National Historic Site and the Jacob Burns Film Center and Media Lab.
On Nov. 4, the Colonial fifth grade went to Lincoln Center, followed by classes from Siwanoy and Prospect Hill schools. This trip wasn't a fifth grade trip but was a music trip organized by Mrs. Jennifer Delaney, the music teacher. On this trip, students heard ten songs, including "It Don't Mean a Thing If It Ain't Got that Swing," "Mood Indigo," "Jealous" and "Black."
Students also learned the history of Langston Hughes on the trip.
Mrs. Delany said her "favorite memory was seeing all the students enjoy the jazz music. We will definitely do it next year. I think it will be a wonderful experience next year and can't wait to do it."
Student Daniel Bernstein (5G) said he enjoyed the Lincoln Center trip. "My favorite part was the song 'It Don't Mean a Thing If It Ain't Got that Swing.' I liked this trip and thought it was good."
Another trip this school year was the Oct. 16 visit to St. Paul's National Historic Site in neighboring Mount Vernon. All the fifth grade teachers took part in this field trip, but mostly Mr. Ventura because it was a social studies trip and he's the social studies teacher for all the classes.
"I love American history and think it's cool that it's so close" to Pelham, Mr. Ventura said. "I think the teachers and chaperones loved it. My favorite memory of it was the church pew because you really get the sense of what life was like back then. I think the kids really enjoyed themselves. I hope that we can do this trip for many years to come."
We also wanted to see what the chaperones thought of the St. Paul's visit so we checked in with Mrs. Eileen Gregware. She said, "I think it was educational. It is amazing that such a big slice of history is right in my backyard."
Mrs. Gregware said the students "were engaged changing from station to station. Yes, I believe that there were a lot of chaperones and workers, so yes, I do think (the students) were safe. I learned so much history that I want to go back in case I missed something."
The third trip of the year was to the Jacob Burns Film Center on May 3. (After our deadline, the fifth grade classes were going to visit the Challenger Learning Center on May 30. Look for updates on our website, www.colonialschooltimes.com.)
This Jacob Burns visit was to help the students with their memoirs, which they will make into movies that will premiere at the Pelham Picture House on June 14 at 4:30 pm.
Fifth grader Francesca Di Cristofano (5G) said she liked the way the instructor, Brady Shoemaker, "explained how your mind doesn't process things when you're not looking for them, and how Mr. Shoemaker taught us how to connect it with our videos. I think (students) did enjoy it because he tried to make it fun, and it was. I think I might do it again next year because even though it's hard, it's fun!"
Mr. Shoemaker said, "I love working at Jacob Burns a lot. I think it's really fun meeting the kids. I've taught at the film center for about five years. I wish I could teach here forever because it's so fun."
Mrs. Meryeme Gashi, one of the fifth grade teachers, said her favorite memory from the film center was "learning about visual literacy and connecting it to the student's writing. I believe the students enjoyed themselves based on their conversations after the field trip. We had many chaperones, and the workers were excellent at the Jacob Burns media center."
Those were three of the fifth grade trips. We will always remember these trips, and we will have more memories from our visit to the Challenger Learning Center on May 30.
(This story was originally published in the printed year-in-review edition of the Colonial Times.)
About the Contributors
Ryan Gregware, Staff Reporter
Hi, my name is Ryan Gregware and I work for the Colonial School newspaper. I am in fifth grade I like to play outside during most of the time. I was born...
Charlie Pedorella, Sports Editor
Hey there, my name is Charlie Pedorella. I am an editor for the Colonial Times. Some of my hobbies are reading, swimming, (definitely) eating, annoying...