Year in review: For Kindergarten through fourth, it was fun, trips and learning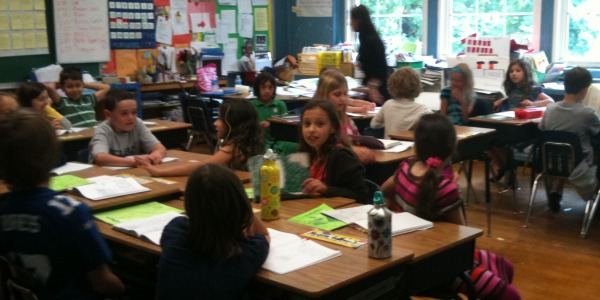 COLONIAL CLASSROOMS — The students in Kindergarten through fourth grade worked hard through a busy year, traveling on field trips to Orchard Beach and "The Nutcracker," playing at recess and learning grammar and science and math and other things.
The Kindergartners said they had a fun time and enjoyed spending their first year at Colonial. Their fifth grade buddies spent lots of time with them after the fifth-grade recess was lined up with theirs.
Nolan Proffitt (KH) enjoyed Kindergarten because "I do work and play time," and said he is excited about first grade because "I only do play time on Friday."
Kindergarten teacher Mrs. Jo Ann Hintzen said she wanted her students to "learn their basic grammar rules and have fun doing it."
Erik Fontanella (KM) is looking forward to getting his new teacher. The Kindergartners are definitely ready for first grade and can't wait to see what will happen.
The first grade classes enjoyed trips to the holiday ballet "The Nutcracker" and a maple syrup factory.
Stephen Hartmere (1A) said his favorite part of first grade was "going to recess!" Asked what he is looking forward to in second grade, he said, "I don't know, maybe being a better kid."
Mrs. Anita Adolphus, a first grade teacher, had her expectations as well. She said she was looking for "lots of hard workers."
As first grade ends, there are different views of second grade. Ian Urquhart (1A) said he is looking for "kind of the same thing as this year." With the year coming to an end, first grade students will have to wait and see what will come next for them.
The second grade had a great third year at Colonial School. They went on the famous field trips to Orchard Beach and the Norwalk Maritime Aquarium to experience sea life in different ways. And many students had a lot of fun.
Catalina Rivera (2H) said her favorite subject this year was reading, and in third grade, she expects "harder tests," which will probably happen to her next year, and in the years after.
Mrs. Jacy Gerhardt, a second grade teacher, said from the beginning of this year she planned "to have fun, learn a lot, have my students learn a lot while having a good time."
Eric Roksvold (2C) said his favorite part of second grade was "playing football at recess." (We are very sorry teachers, but someone else had to say something about recess being their favorite thing.)
Third grade was a busy year for the students, with fun field trips like the New York Botanical Gardens in the Bronx and going to Pelham Palace Chinese restaurant for the traditional lunch. The students liked their time spent with the teachers but said they still are excited about fourth grade.
"(I like my teacher) because she's nice," said Matthew Gregware (3-D). He looks forward to fourth grade "to learn new stuff."
The students say they are ready for fourth grade, and their teachers agree with them.
"I think they will definitely like fourth grade because they like to learn, they're excellent readers, and most of them enjoy math," said Mrs. Joanne Lombardi, teacher of 3L. "They learn new things with ease."
And soon these third graders will find it's September and they are learning in a new class and a new grade.
The fourth graders are—as you might have guessed—definitely ready for fifth grade. Who wouldn't want to be part of the oldest grade in school? But the fourth grade students did do many fun things this school year. We take a look back at their experiences.
Fourth grader Ella Deyoung said she liked her grade a lot and especially the Recycle Racers project in which the students took recyclable items and made a small car to race in a competition.
"We had the Recycle Raceway, and I liked that," she said.
Other big events for the fourth grade classes were the Ellis Island project and trip and the Carnegie Hall visit.
The teachers agree that the students in fourth grade did well and liked it and are ready to move up to the top grade in the school.
"I think in September, they'll have to get used to the transition and new teachers, but they'll get the hang of things," said Mr. Ronald Martucci, a fourth grade teacher. "They're a good group of kids."
(This story was originally published in the printed year-in-review edition of the Colonial Times.)
About the Contributors
Sam Rodd, Community Editor
Hey, I'm Sam. I joined newspaper because I've always wanted to do newspaper. I like to do plays and play with Legos. I am in fifth grade and love...
Daniel Bernstein, A&E Editor
I was born in New York City on Jan. 31, 2001. I love football. I am a huge Giants fan. I like to act, and I've done six plays. I want to be in a movie...