Spirit Days on Fridays are new, fun red-and-white tradition for Colonial
COLONIAL SCHOOL — Spirit Day is a fun-filled special day for Colonial School. It started on Sept. 21, which was a Friday. On Spirit Day, the entire school dresses in red and white. Colonial will celebrate this special day every Friday.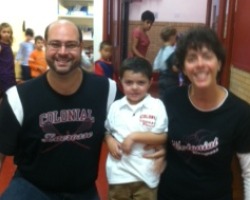 Spirit Day was created by Mrs. Wilson, the principal. She said it is a way to bring the school together and to create new traditions. "It will make students more excited about coming to school every day," said Mrs. Wilson.
Lots of students wore funny hats and silly clothes. Red and white represents Colonial. Even the school building got in on the act. Walls in the hallways were painted red during the summer.
When it's Friday, everybody looks like a herd of funky red and white zebras.  Most students enjoyed the fun, new tradition that Colonial now celebrates. Anybody in Colonial can wear these colors, including teachers.
Ben Martucci (K-H) said it was "funny to see everyone dressed up in red and white."
Antonio of 2-G said Spirit Day "was cool because I like all the colors Mr. Wilson chose."
Maddie Samman (4-M) thought "Spirit Day was a great way to represent our school."
Leave a Comment
About the Contributors
Charlotte Howard, News Editor
Hi, my name is Charlotte and I am a newspaper editor for the Colonial Times.  I am in class 5-V  and I am doing news for the Colonial Times.  Some...
Emilia Privat, News Editor
Hi, my name is Emilia and this year I am a News Editor. I am in 5V.  My hobbies include soccer, reading, writing, and drawing. I enjoy the outdoors and...