Dr. Charles Wilson, back in Pelham district as interim chief, talks about changes in the schools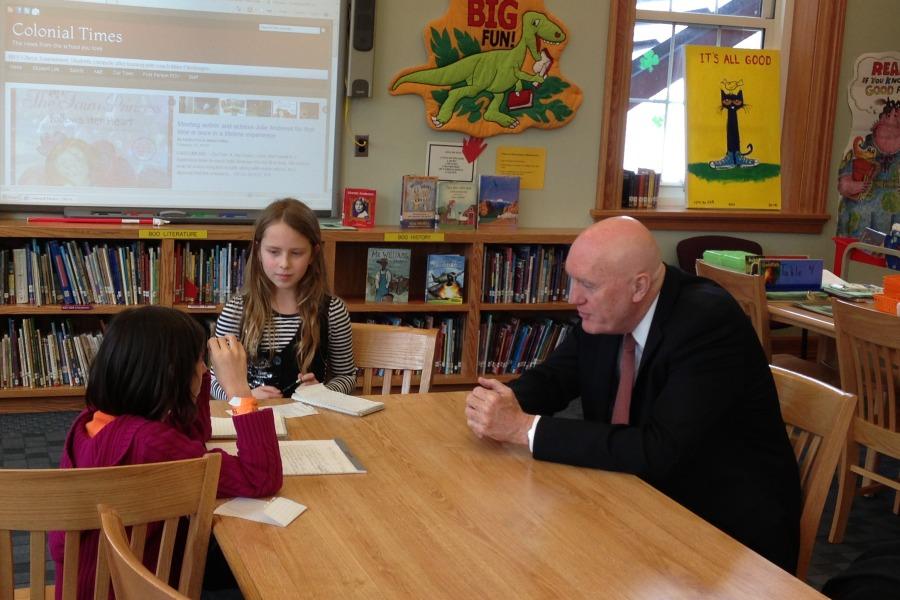 COLONIAL LIBRARY — He's back! Dr. Charles Wilson couldn't stay away from Pelham schools, so he returned from his break from retirement to serve as interim superintendent of the district.
He started being a teacher at what was then Pelham Junior High School in 1968 and served as Pelham's superintendent for nearly 13 years before retiring, With his return, he will have worked as superintendent for more than thirteen years. He knows almost everything about every school from Colonial to the high school. He said the best improvement to Colonial was construction of the library and Mrs. Anita Adolphus and Mrs. Kathryn Castellano's classrooms.
During a talk with the staff of the Colonial Times, Dr. Wilson said when he was last here, there wasn't as much technological equipment like SMART Boards, computers, laptops and the new iPads.
Did you know that Hutchinson has the most students of the elementary schools? We didn't. That's one of the many facts Dr. Wilson knows about the district. The superintendent is the boss of the staff, faculty and even the principal. But the school board is the boss of him.
Dr. Wilson has been a superintendent in Pelham and North Salem. He makes the decision if we have school or not on snow days. If you don't want school on a day, you go to him.
What he likes best about being superintendent is that he can make improvements in the schools. The most challenging job for the superintendent is that if students are bad, he has to talk to them. He said he doesn't like it when children are being bad and he has to punish them.
Dr. Wilson is serving until Pelham's new superintendent, Mr. Peter Giarrizzo, starts in the job in July. You can read an interview with Mr. Giarrizzo here.
About the Contributors
Margot Wies, Student Life Editor
Hey! My name is Margot Wies. I live in Pelham and go to Colonial School. I love reading,pigs and art.  I am 10 years old and I'm in fifth grade. I...
Jamie Burke, Student Life Editor
Hi, I'm Jamie Burke. I'm 10 years old and in fifth grade. I am in class 4c. I live in Pelham. I love Allie Finkle's Rules for Girls series. Some...