DARE program teaches fifth graders to stay away from drugs and tobacco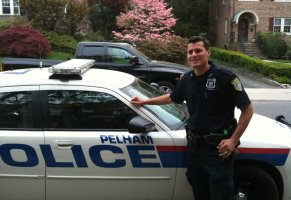 COLONIAL SCHOOL  — DARE is a fifth grade program at Colonial and other elementary schools that teaches the importance of staying away from drugs and tobacco. Pelham Police Officer Brian Hendrie teaches at Colonial. (He's married to first grade teacher Laura Hendrie, if you didn't know.)
Many students at Colonial School said that because  DARE was taught to them, they would never accept any type of drug or anything like a cigarette, even if it was from their best friend.
DARE training started in November. The fifth graders were given books on the first day of the class. In the books, there were important notes and questions the students had to answer after looking at the previous passage. Officer Hendrie provided acting games, jeopardy and mini-movies about the topic and came up with many other activities for the kids to understand the concepts better.
For example, once the class was talking about cigarettes and tobacco and how advertisements on them fooled a lot of people. Officer Hendrie brought in some magazines with advertisements and there was a discussion on what the ad was trying to convince you to do.
In the program, both fifth grade classes learned about tobacco and marijuana. They were taught why these products are bad for you and to never accept them.
Many though the DARE program was a fantastic learning experience and that it's something the fourth graders should be looking forward to.
Leave a Comment
About the Contributor
Emilia Privat, News Editor
Hi, my name is Emilia and this year I am a News Editor. I am in 5V.  My hobbies include soccer, reading, writing, and drawing. I enjoy the outdoors and...