Star Wars: The Force Awakens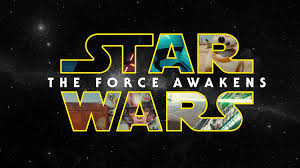 Dun dun… dun dun dun duuuuuun duun dun dun dun duuuuuuuuun duuun dun duun duun  duuuuuuuuuuuuuuuuuuuuun
Dun dun… dun dun dun duuuuuun duun dun dun dun duuuuuuuuun duuun dun duun duun  duuuuuuuuuuuuuuuuuuuuun….
No. Not really. That's the theme song from Star Wars….ooh! Which by the way, the new episode, Star Wars VIII: The Force Awakens is out in theaters!
SPOILER ALERT-SPOILER ALERT-SPOILER ALERT-SPOILER ALERT-SPOILER ALERT
When Luke Skywalker (Mark Hamill) disappears, most of the galaxy is looking for him. The First Order: formed by Supreme Leader Snoke (Andy Serkis), Kylo Ren (Adam Driver) and General Hux (Domhnall Gleeson) is out to find- and kill- Skywalker, who is the last Jedi Knight. Both sides have most of the map to Skywalker, but a droid that goes by the name of BB-8 has the last piece. After an attack on Jakku by Stormtroopers, the droid escapes and finds a young girl named Rey (Daisy Ridley) who takes care of it.
Meanwhile, one of the Stormtroopers that was part of the attack on Jakku (who goes by the name of FN-2187) is thinking about joining the Resistance. He helps Poe Dameron (Oscar Isaac) escape from the Finalizer (an Imperial Star Destroyer) and does join the Resistance with him. Then, they land on Jakku (big surprise) and meet Rey, who quickly gets captured. Finn goes to the Resistance base with Anakin Skywalker's lightsaber. The Resistance then goes to Death Star III and saves Rey, who duels with Kylo Ren, right after he kills Han Solo (Harrison Ford) and wins! Rey then uses R2-D2 and BB-8 to find Skywalker, to whom she gives the lightsaber. Yay, happy ending.
Star Wars VIII will be in theaters in 2017.
About the Contributor
Padraig F. Pearlman, Editor
My name is Padraig F. Pearlman. I have a section on the Colonial Times called "Technologically Speaking", which I am the editor of. My favorite newspaper...