Colonial Times publishes 1,000th article one month before 6th anniversary of founding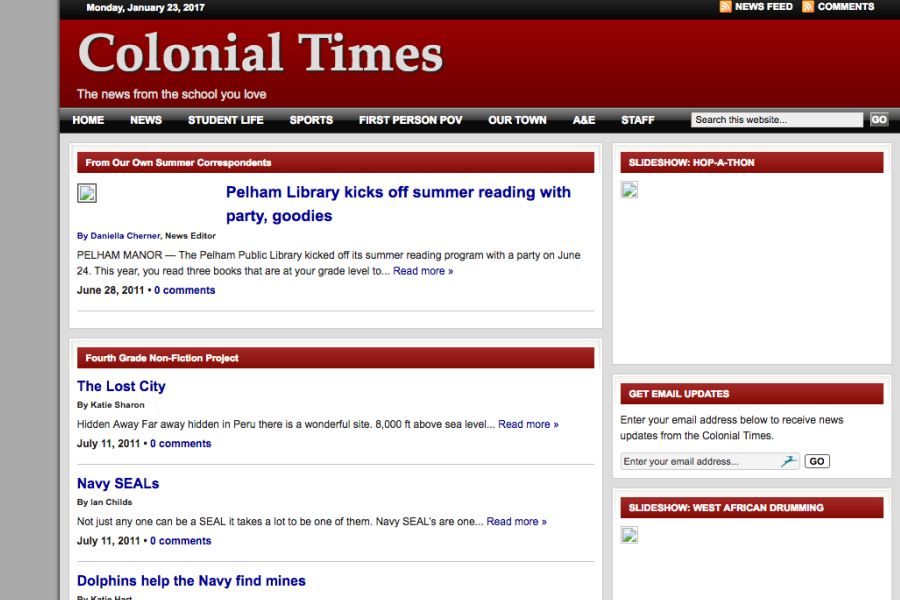 THE NEWSROOM — Just six years short of its founding, the Colonial Times published its 1,000th article earlier this month.
Mr. Alex Ventura, the paper's advisor, said he was very proud of the accomplishment. "Mr. Zahradnik started the paper and is an inspiration to all of us," he said in an interview. "I love to see the students excited to write about what they are excited about. There are many exciting things going on in the school and getting the word out is important."
Mrs. Tonya Wilson, the principal, said she thought it was great the Colonial Times has written 1,000 articles. She plans to have a party for all the members of the Colonial Times staff, past and present.
The paper's first article was published on Feb. 15, 2011 under the headline "Anastas, schoolmates help lost Stormy get home." Ben Girolamo, now a junior at Pelham Memorial High School, wrote the piece. Daniella Cherner, now a sophomore at PMHS, wrote the second story, "Girl Scouts raise funds to buy pajamas." It was published the next day.
Another early story is "We are Colonial, Hear us Growl," which was published on Feb. 18, 2011 and written by Francesca Di Cristofano and Patrick Zahradnik. It is about the ring jars starting in Colonial School. Di Cristofano is a sophomore at the high school and Zahradnik is a sophomore in private school.
The Colonial Times has grown into a wonderful newspaper that produces great articles about events happening in the school and around the world.
About the Contributor
Claire Van Praagh, Student Life Editor
Claire loves soccer, running, basketball and gymnastics. She also likes acting and singing. Claire edits for the Student Life section of the Colonial...