Joan Mulholland, Freedom Rider, civil rights activist, talks about fighting the good fight
COLONIAL LIBRARY —  A civil rights activist visited the school on April 19 and gave a presentation about her story and life when discrimination was still in play.
Her name is Joan Mulholland. She and her African American friends were arrested many times only because they believed in equal rights. Ms. Mulholland grew up in Virginia with a belief in equal rights. She took part in many protests and activities, including sit-ins, the Freedom Ride and voter registration drives.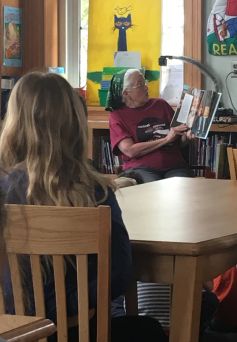 "I was involved in helping the March on Washington and Freedom Summer," she said. All through college, she protested. She met Dr. Martin Luther King, Jr., John Lewis and Andrew Young.
Her son Loki and his best friend Angela Fairwell wrote a book on her inspirational life story called "She Stood for Freedom: The Untold Story of a Civil Rights Hero, Joan Trumpauer Mulholland."
Eloise McGibbon, class 3L, said, "The most interesting part of her presentation was when she talked about how she snuck into the African American's half of the village with her friend." She did not want to go to scare them because she is white, but she did.
About the Contributors
Lark Martin, A&E Editor
Lark Martin is Colonial Times A&E Editor. She loves to write comics and novels. Also, she rides horses, plays tennis and volleyball. She...
Emily Rackley, News Editor
I am Emily Rackley.  I have lived in Pelham for my whole life. I am in 5H this year. I enjoy playing soccer, fun vacations, reading, playing lacrosse,...