The stories of immigrants at Ellis Island inspire fourth graders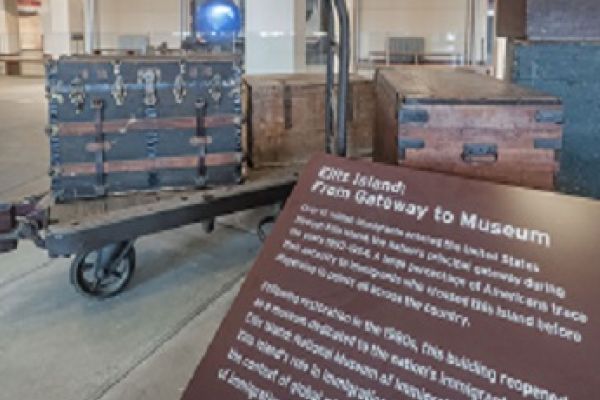 ELLIS ISLAND — A trip to Ellis Island June 7 to learn the history of immigrants' struggle for freedom inspired the young minds of Colonial School.
Both fourth graders and parents learned about the many different people who arrived at Ellis Island from many different places.  The day was filled with stories about immigration to this country and what people experienced when they arrived at Ellis Island.
The students made an early start on that sunny Wednesday morning, traveling from Colonial School in two school buses on the two-hour trip to Battery Park. From there, they took a ferry to Ellis Island. But that trip was short compared to the long journey many immigrants traveled from their home countries to arrive in New York Harbor.
Students enjoyed exploring exhibits and listening to the 40-minute audio tour.  The exhibits are filled with stories of people who were detained at Ellis Island for mental health or other sicknesses after their long trip. Some were detained and ultimately forced to return to their home country. For many who were allowed to stay, there were happy stories of reuniting with family members and other loved ones at the "kissing pole," a common meeting place.
Plum Durham, a fourth grader, said her favorite room at Ellis Island was The Dormitory. "I learned that 32 people had to live in a single room with one bathroom and one sink," she said. "This made me appreciate how much I have to be thankful for. It was amazing how people were so brave to make the trip and live in harsh conditions."
"
It was amazing how people were so brave to make the trip and live in harsh conditions."
— Plum Durham
After the audio tour, students and parents enjoyed some fresh air along the waterfront. Many brought a picnic lunch to enjoy the cool spring weather and Manhattan skyline. Others explored the outdoor exhibits including a long wall with over 700,000 names inscribed.
"I have lots of relatives who came through Ellis Island," said Jamie Moskowitz. "A great great grandfather on my dad's side came through, and on my mother's side, a great great grandmother.  It was really cool to find them on the wall after hearing about them from my family members."
One lucky student, Josie Leff, talked about her encounter with an elderly man who had come through Ellis Island in the 1950s. "My favorite part was when my dad and I were looking at the wall, we met a man who was looking for his own name on the wall.  He told us stories about his experience coming through Ellis Island, his journey, how he felt and the series of tests he had to go through."
As students boarded the ferry to return home, with the Statue of Liberty nearby, it was hard not to think about Emma Lazarus' famous line, "Give me your tired, your poor, your huddled masses yearning to break free."