Pennies for Patients, fundraiser at Colonial, starts raising money for kids with blood cancers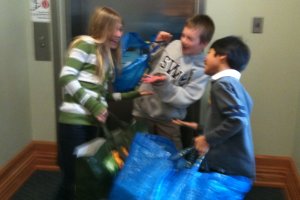 Hang on for a minute...we're trying to find some more stories you might like.
COLONIAL — Pennies For Patients, run by the Leukemia and Lymphoma Society, has started fundraising at Colonial School via the Student Government.
Pennies For Patients is a fundraiser done yearly at Colonial, and the money collected goes to help kids with blood cancers. This year, all the patients are called "Honored Heroes." Their "Squads" include their doctors, parents, nurses and students who raise money. The 2018 motto is "Every hero needs a squad." LLS's mission is to cure leukemia, lymphoma, myeloma and Hodgkin's disease.
Colonial has raised $43,000 since 2003. Across the country, 29,000 schools participate in Pennies For Patients, and $288 billion has been brought in since 1993, with more than $34.5 million raised for myeloma research alone.
All students receive a box to collect coins for the fundraiser. Individuals get prizes for raising certain amounts of money. Once you've raised $50, you will get a t-shirt for a thank-you gift.
If a classroom raises $100, they become "bronze champions." If a classroom raises $200, they're named "silver champions." And collecting $300 makes a class "gold champions." Also if a class raises more than $100, they receive a ribbon to put up in their room. Every classroom gets a box to put their funds in. If they bring in the most amount of any class in the school, they are eligible for a pizza party.
Student Government collects the money and counts the funds once a week during their meetings.
Student Government Vice President Jonah Snyder (5S) likes Pennies For Patients "because kids help kids."
Student Government Secretary Kira Findikyan (5S) said the fundraiser has been going very well. "I think it's been going well with lots of paper money and coins. I think we did really well for the first week."
Over the last 50 years, LLS has increased the survival rate for childhood leukemia from 3 percent to 90 percent.
Amari is a leukemia survivor. His nickname is "Too Tough" and he survived leukemia because of Pennies For Patients. His favorite superhero is the Hulk.
Pennies for Patients runs in February and March for three weeks. All grades are allowed to donate.
LLS is the world's largest non-profit organization for finding cures to blood cancers.

About the Writer
Gillian Ho, Student Life Editor
Hi, my name is Gillian, and I am in 5S. My favorite color is purple, and my birthday is Oct. 19. My favorite books are "Wonder" and "I Will Always Write...