Sal helps kids cross on way to school (from our mid-year print edition)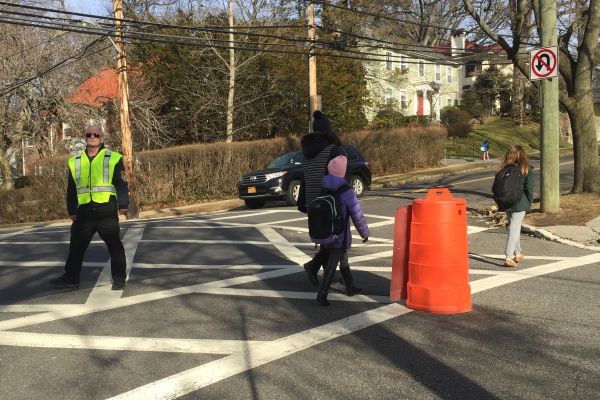 Hang on for a minute...we're trying to find some more stories you might like.
HIGHBROOK & BOULEVARD — Sal Ariganello is the crossing guard at the intersection next to Colonial School. He helps people cross Highbrook Avenue and Boulevard.
Mr. Ariganello has been a crossing guard for more than 10 years. He is committed to helping everyone who comes to his intersection, whether to go to Colonial or on to the Pelham Middle School and Pelham Memorial High School. He is there no matter rain or shine.
Mr. Ariganello said he loves to be the guard for Colonial because he's always loved children. "I cross about 100 kids and 100 adults a day," he said.
His main safety advice is to always listen to the crossing guard and stay a little bit back from the curb. Also, if you are younger, crossing with your parents is always safer.
All the kids love his personality. They say he is friendly, cheerful, kind, funny and respectful. Kids always say hello to Mr. Ariganello, and he says hello right back. Mr. Ariganello has no negative energy. He is all positive!
Alex Dolen, who walks to school every day and crosses at Mr. Ariganello's intersection, appreciates that he takes the time to cross her. Alex gave him a card to show how much she likes him.
"I love to cross with Sal because he stops all the cars when I am crossing," said Lucy Cole. "He also makes me feel extremely safe."

About the Contributor
Arden Keough, News Editor
Arden Keough loves to play soccer. Her team is the Ambush. Her hobbies are lacrosse, soccer and swimming. She loves to write. Her favorite book is "Fish...