Mrs. Wilson planning book clubs plus surprise (from our mid-year print edition)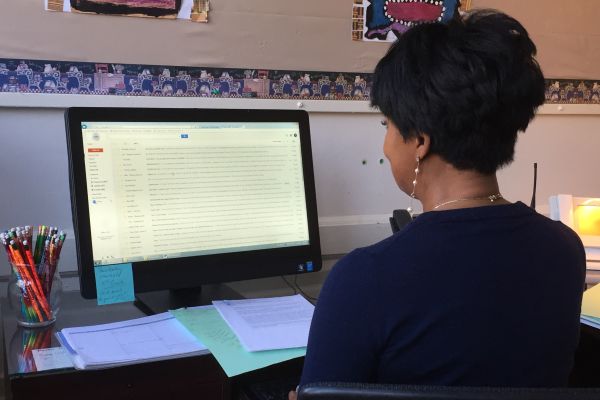 Hang on for a minute...we're trying to find some more stories you might like.
PRINCIPAL'S OFFICE — This year in Colonial School, Principal Tonya Wilson has been starting new projects, while continuing the classic Colonial traditions.
Some of the things she continued are peer buddies and Principals of the Day. "I came up with this idea (for peer buddies) along with other teachers because we thought this would bring kids together and make new friends in different grades," said Mrs. Wilson in a previous interview.
Under the peer buddies program, fifth graders are partnered with Kindergartners, fourth with fifth, third with second, and first with Kindergarten.
Fifth graders were assigned Kindergarten buddies to show around the school, to guide them and be a friend for their first year as Kindergarten Colonial Cougars. The buddy program started with it just being Kindergarten and fifth grade together and ran for many years. It was expanded two years ago so there are peer buddies for all of the grades.
At Pasta Night, Mrs. Wilson offered the chance to be Principal for a Day in the silent auction. Four fifth graders won the opportunity to be in charge of the school for one day. These fifth graders were Waverly Nanda (5H), Jamie Moskowitz (5H), Erin Moskowitz (5S) and Liam Ginsburg (5S). A second grader also served as Principal for a Day on March 2.
Under Mrs. Wilson's guidance, Julia Findikyan (5H) began decorating the bulletin board located right outside the school office, which is also where Mrs. Wilson's office is.
(Julia is an A&E Editor of the Colonial Times.)
Each month, Julia comes up with a new idea to put on the board. She decorates the board to match the theme of that month's question. In December, the question was, what did you do over the holiday break or vacation?
January's question was, what do you do to show your PAWS? Each morning, the students say the (Cougar) PAWS pledge. The PAWS pledge is:
P — which stands for always pay attention
A — which stands for always be prepared
W — which stands for work and act responsibly
S — which stands for show respect
For the bulletin board, students were supposed to write down what they did to follow the elements of the pledge. Lastly in February, each student was asked to write down a random act of kindness for the board.
"Some of the new things that we will be starting this year will be town meetings held with the second grade," Mrs. Wilson said. "We will also be starting book clubs. We will start with a girls book club and then follow with a boys book club."
"We just finished (a project) where the kids in the school can go and make Valentine's cards," she said. "These were sent to old veterans and kids in hospitals."
Mrs. Wilson also pointed to academic activity that started recently. "The New York State practice tests have started for English language arts, and the official state tests will start this coming April for English language arts and math."
The state tests are for third through fifth graders. It has been controversial whether kids should take the tests.
"There is a top secret project in the works that nobody can know about yet, but will be revealed soon to the school," Mrs. Wilson disclosed.

About the Contributor
Charlotte Seligman, News Editor
I am 10 years old. I love to act, sing, dance and bake. I love being on the Colonial newspaper. I have a cat named Cha-Cha, a dog named Stanley and a...