Fairy-tale visit by sixth graders (from our mid-year print edition)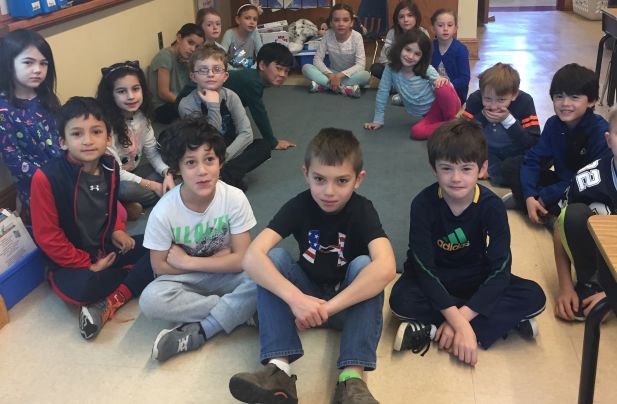 2ND GRADE CLASSROOMS — Eager second graders crowded around a sixth grader carefully listening to the older student's every word.
The sixth graders from Pelham Middle School did a fairy tale project and visited to help the second graders at Colonial who'd started their unit on fairy tales. PMS students were chosen from Michele Weyant's English language arts class to come to Colonial and share their stories with the second graders.
Emily Cullen, a Colonial graduate, read her fairy tale "Athena's Tale" based on her friend's Greek past. Her story is about a girl named Athena who lives in a village that supports women. Athena loves theater and hopes to go to theatrical college. Ares, the Greek god of war, doesn't support the idea of a village that gives women opportunities and wants to go to war. Athena, the Greek goddess of strategy, tells Athena the real girl what was going to happen to her village. Athena dresses up as a boy and sneaks into Ares's camp to sabotage his weapons. The village wins the war, and Athena gets to go to college.
Lian Spencer, a former Colonial Times editor, read her story, "Mei's Wish." All seven of the second graders listening to her story said they loved it.
"We believe this will help the second graders by giving them a glimpse of what they will be doing in grade six," said Ms. Weyant in an interview before the readings. "We will discuss their fairy tale unit and discuss the similarities and differences. It is our hope that they will get excited about moving up in grades, and we hope our sixth graders who are chosen will feel proud that they were selected."
Second grader Ella Memoli listened to Emily's story, and along with her friends listening, said she liked it.
About the Contributor
Kira Findikyan, News Editor
Kira Findikyan loves everything pink. She loves soccer, acting, singing, basketball, newspaper and piano. Kira has an identical twin sister, older brother...