Five students bring Magic of Books to nearby school (from our June print edition)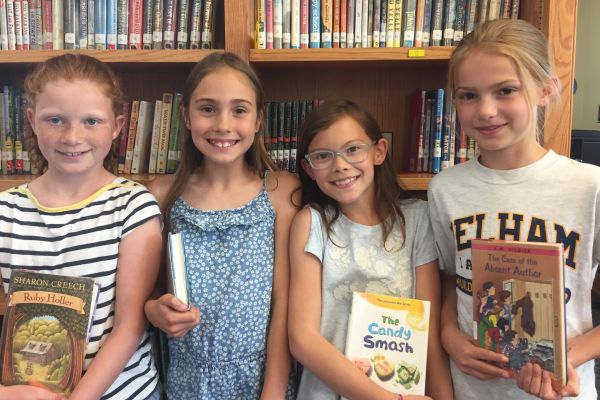 COLONIAL — Students walking around the hallways of school probably noticed bins labeled The Magic of Books. The Magic of Books is an organization started by fourth graders Bryn Felgner (4M), Arden Keough (4M), Lucy Cole (4M), Ava Karame (4G), Alex Dolen (4G) and Eloise McGibbon (4G) to give books to schools that need them.
The donation organization started when "we wanted more reading time in class but then we realized that we were lucky to even have books," said Arden.
The Magic of Books collected new and gently used books in large bins next to Mr. Ron Martucci's class, Mr. Raggo's office and at the Pelham Public Library.
Lucy said it was important to do the Magic of Books because "it would be a good deed and help students who need books."
Bryn said that it was a good project to work on "because so many people have books sitting around their houses and wouldn't think of donating them—just throwing them out."
Bryn found Edward Williams Elementary School on a website that said they needed books. The girls contacted the school and delivered the books. Edward Williams Elementary School is located in Mount Vernon at 9 Union Lane.
Some books collected included the Horrible Harry series, "Charlotte's Web," "Brown Girl Dreaming" and "Mr. Lemoncello's Library."
"At Edward Williams we are striving to deliver on the promise of a world class, high-quality education for every scholar in our school," according to the school's website. "The teachers, staff members and administrators are committed to ensuring a meaningful learning experience for our children that will propel them into their future careers. Our goal is for each of our scholars to leave elementary school on the right path toward becoming contributing members of a global society."
Edward Williams School educates grades Kindergarten through sixth grade, and its vision "is to inspire young learners in a safe and nurturing learning environment where each student can strive to their fullest potential.
About the Contributor
Kira Findikyan, News Editor
Kira Findikyan loves everything pink. She loves soccer, acting, singing, basketball, newspaper and piano. Kira has an identical twin sister, older brother...