Comic book creator Scott Wilson tells fourth graders how it's done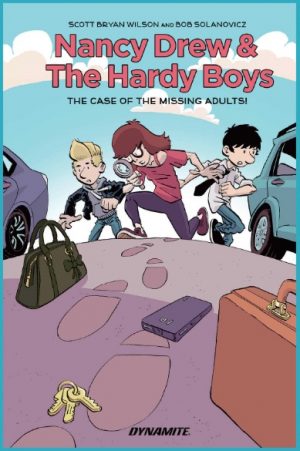 CLASSROOM 4M — Comic book creator Scott Brian Wilson presented a Powerpoint to the fourth graders about how to make a comic.
Mr. Wilson published his newest title "Nancy Drew And The Hardy Boys: Mystery Of The Missing Adults" on Nov. 5. Since then, his comic has been a hit in Colonial School and has inspired many of the students. Mr. Wilson has written other comics, such as Batman, Swamp Thing, Star Trek titles and many more.
Ellie Wilson, Mr. Wilson's only child, said of her father's job: "I feel amazing. He does what he likes and is very good at it."
When Mr. Wilson presented his Powerpoint, he explained the process of writing a comic book. He showed little clips and scenes from the book. He also gave a book to each class. Mr. Wilson had never given a presentation to the fourth grade at Colonial before.
"I was nervous because I wanted to do a good job, and I wanted it to be interesting," he said. "I'm very glad it came out. It took a very long time to make. It's really fun. It always starts out as a one sentence idea and then eventually it turns into a hardcover comic book."
The fourth graders at Colonial loved his presentation.
"It was really good and interesting, and I liked how he taught us how to make a comic," said Kate McGovern
Kate was not the only one who enjoyed Mr. Wilson's presentation.
"I loved it," said Reese Cristea. "I liked the part where Joe was in his underwear."
About the Contributor
Finley Bethea, News Editor
Hi, my name is Finley. I am 11 years old and in fifth grade. I love gymnastics, writing and reading. I live with my mom half the time and my dad half the...