PMHS hockey team to return many from state semi-final run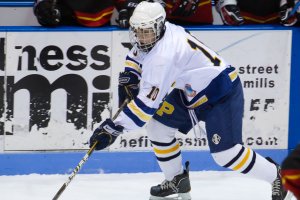 The Pelham varsity hockey team next year will see the return of most of the players who took the Pelicans to the state semi-finals this season, according to Coach Ed Witz.
"I'm excited about all seasons," Coach Witz said in a telephone interview. "And the players that we had this year will probably be with us next season, except for our one senior, Dennis Pryor."
Coach Witz said his team was confident and ready to fight going into the semi-final match against Williamsville-East in Utica Memorial Auditorium. That game ended in controversy on a shot ruled a goal in overtime, giving Williamsville a 3-2 victory and a ticket to the finals.
"I could not see everything from the bench, but it looked as though it didn't go in," said Coach Witz. "The player who shot it didn't even celebrate with his team. He didn't think it went in. I asked the ref and he didn't give an actual answer."
Top players on the 14-11-1 Pelicans included Colin Reilly, Will MacInnis, Andrew Schauer and Josh Borofsky, the coach said.
View Comments (1)
About the Contributors
Henry Driesen, Sports Editor
My name is Henry Driesen and I am 10 years old and I was born in Norwalk, Connecticut. I enjoy playing sports like soccer, baseball and football. My favorite...
Claudia Dodge, Sports Editor
Hi my name is Claudia Dodge and I love being part of the newspaper for the second year and being a sports editor. I am in fifth grade. I love playing lacrosse...