Two Pelhamites are coaching Colonial rec basketball teams
COLONIAL GYM — Lots of Colonial kids are playing rec basketball after school. There are three teams: Colonial Red and Colonial White for the boys, and Colonial Red for the girls.
Coach Matt Spafford grew up in Pelham and went to Hutchinson School. Matt graduated from Pelham Memorial High School in 2008. He said he wanted a job so he became a rec basketball coach. He likes sports a lot and is also studying at Hunter College in New York City.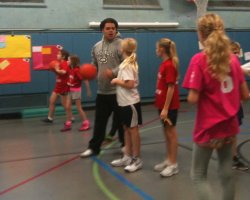 Matt said he was lucky to get the coaching job and that he likes helping out teams. He enjoys coaching because teams are different everywhere.
"It doesn't really matter" that he's coaching Colonial instead of Hutch, Matt said. "I would be sad if I was younger."
Coach Mike Rosa, who has been helping his friend Matt, also grew up here in Pelham and went to school at Hutchinson with Matt. He too graduated from PMHS in 2008. Now he goes to college upstate. He was helping out because it was his winter break.
When asked how he felt coaching Colonial, not Hutchinson, Mike said, "I'm a little sad, but now it doesn't matter much."
Here are the teams' stats, as of the interviews: Colonial Red, 2 wins, 1 loss; Colonial White, 3 wins, 0 losses, and Colonial Girls Red, 1 win, 1 loss. The other teams in the league are Prospect Blue, Hutch Maroon, Hutch Gold and Siwanoy Light Blue.
Leave a Comment
About the Contributors
Claudia Dodge, Sports Editor
Hi my name is Claudia Dodge and I love being part of the newspaper for the second year and being a sports editor. I am in fifth grade. I love playing lacrosse...
Henry Driesen, Sports Editor
My name is Henry Driesen and I am 10 years old and I was born in Norwalk, Connecticut. I enjoy playing sports like soccer, baseball and football. My favorite...