Kids help others, exercise, have lots of fun when they Jump Rope for Heart
COLONIAL GYM — Jump Rope for Heart was a fundraiser Feb. 14 where students came here to  jump rope. They jump rope because it's good for their hearts and to raise money for the American Heart Association.
Before Jump Rope for Heart, students asked for donations from family members or friends of theirs. The day of the event, students gave the donations to Mrs. Sara Bagwell, the physical education teacher.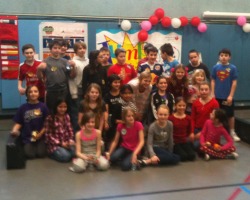 At the end of the event, Mrs. Bagwell picked two names out of a hat, and the students chosen won two t-shirts that everybody signed.
A few weeks later, Mrs. Bagwell will come around to the fourth and fifth grade classrooms to give kids the prizes they earned for raising money.
Ramona Inglebreak from the American Heart Association came to the school the day of the event. She has been working for the American Heart Association for eight years. She said her favorite part of the job is helping the kids.
About the Contributor
Maddie Mullany, Staff Reporter
My name is Maddie Mullany and I am in fifth grade. I am ten years old. My hobbies are sports, dancing and theatre. The sports I play are soccer, lacrosse,...