Pelham flag rugby team practiced at Prospect Hill, played tournaments in NY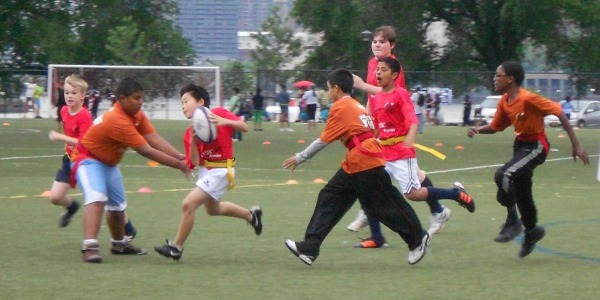 PROSPECT HILL — The Pelham flag rugby team gathered for practice every Monday and Friday this fall from 3:30 to 4:30 pm. Some of the activities included "eagles take flight," a game where you have to run from one point to another without being flagged.
Sometimes, during the last fifteen minutes, they had a scrimmage game where everyone played real flag rugby.
In flag rugby, the rules are a lot different from football. Players can only throw underhand passes and only throw backwards, so it's really a running game.
Other activities during practice include "feeding time," where there are four animals and one lion. In the beginning, the coach calls the animals he wants and then after a few seconds, he yells "feeding time!" All the animals try to run back to their cages before the lion gets them.
"I think the practice scrimmage and other games are going well, and we will do good in the tournaments," said Juan Carlos Matos (4M).
The tournaments are usually held in New York City. Practices are held at Prospect Hill, but rugby is for all of Pelham. One of the coaches was Coach Toby.
It is a really good group. It is lots of fun. I recommend it because it is different.
About the Contributor
Marco Gracie, Events Editor
Hi! I am Marco Gracie, Events Editor of the Colonial Times. I enjoy playing outside. One of my favorite sports is snowboarding. I also enjoy reading books...