AC Milan takes Pelham Cup in Girls 3/4 Division with three straight victories in group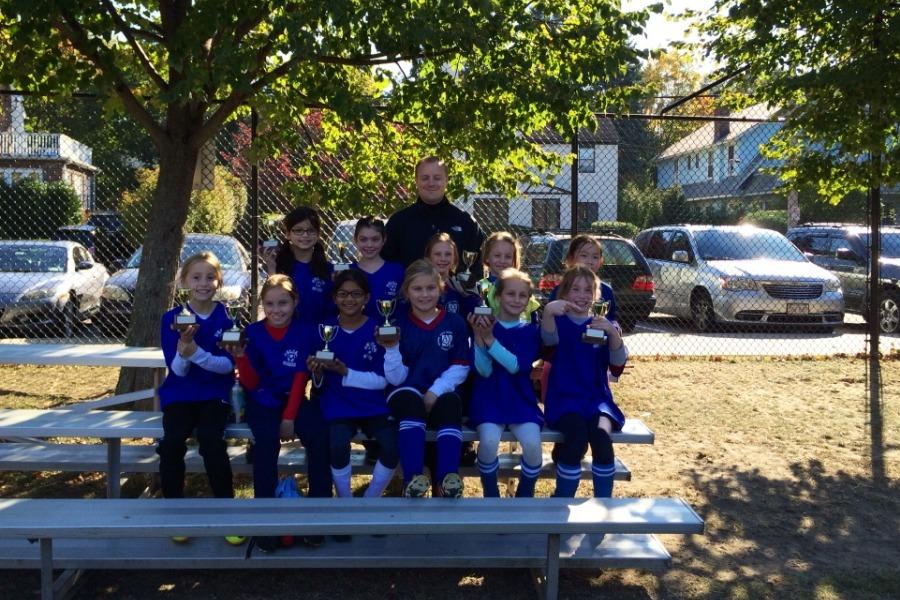 FRANKLIN FIELD — It was a bright morning on Oct. 26 when six grade three and four girls teams arrived here to compete for the 2013 Pelham Cup. All players were excited and aspiring to win the Cup. Friends and family members were equally enthusiastic and came to cheer the players on.
The AC Milan team won the Pelham Cup by taking all three games in their bracket. In their first game against Paris St. Germain, Olivia Orlando (Prospect Hill) and Lauren Varino (3K) scored two goals. AC Milan goalie Scarlet Bratone (3K) did a great job by saving a shot from the opponent team. The game ended with a score of 2-0 in favor of AC Milan.
The second game was AC Milan against River. AC Milan won this game as well by the score of 2-0. The last and deciding game was AC Milan against Real Madrid. The Real Madrid team gave some tough competition to AC Milan.  AC Milan led by 1-0 in the first half on a Katie Bratone (3L) goal. Real Madrid equalized. Both teams played very well until the last moment, when it seemed as if the game would end in a tie. However, Lauren Varino (3K), playing as left forward for AC Milan, took her opportunity and scored the winning goal in the final minute.
AC Milan Coach Dan Bratone said, "I feel wonderful that my team won. I feel really lucky to have had such a delightful group of sweet, hardworking kids to coach this year. They made it a blast for me, and I hope they had as much fun as I did and are leaving with a greater love for soccer. Great job team."
Olivia Orlando, who scored the maximum goals for AC Milan, said, "I guess travel soccer does help you play soccer well. So does practicing. I practice a lot with my babysitter in my backyard."
Katie Bratone said, "I feel great that my dad is coach for my team."
The game ended with an award ceremony. Each participant of AC Milan was awarded with a trophy and the other teams were also praised for their sportsmanship and hard work.
About the Contributor
Tisya Sharma, News Editor
I am Tisya Sharma, student of 5V. This is my third year at Colonial, and I love it. This year, I am a News Editor for the Colonial Times. I am involved...