Cubs Win World Series!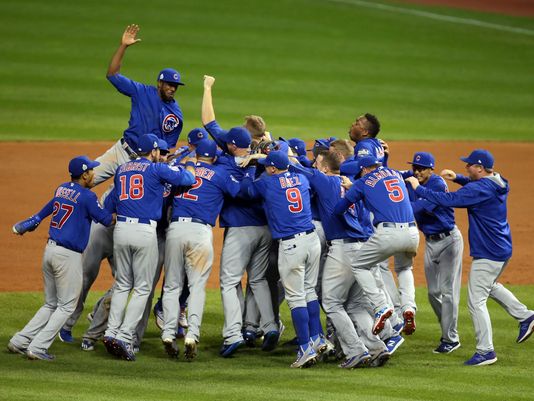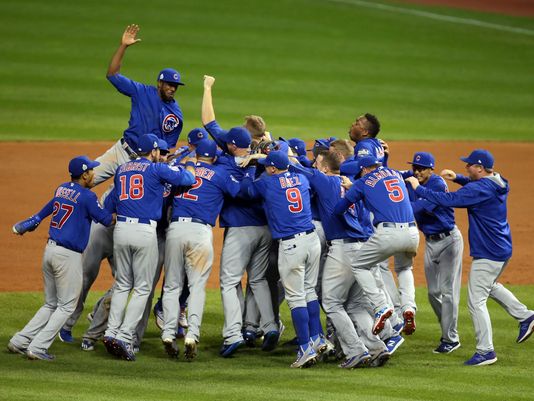 On November 3, history was made by the Chicago Cubs when 1st baseman Anthony Rizzo stepped on first base with the ball in his hand. The big Game 7 was in extra innings for one of the first times in history. Michael Martinez hit the ball right to the shortstop who then threw Martinez out.
On Friday, November 4, there was a parade for the Cubbies  starting at Wrigley Field through downtown Chicago. Thousands of people were there to celebrate the end of the Cubs Curse.
The Cubs have not won the World Series since 1908. That is more than 1 century! Its about 108 years. In the movie Back To the Future, a scientist traveled in time up to 2015. When the scientist got there, people were celebrating the cubs winning the World Series. So, what is amazing is that the movie's prediction was only 1 year off, which is pretty freaky.
The Cubs are the champs, after coming back in a 3-1 series, and beating the Cleveland Indians in Game 7 score 8-7. Nobody will ever forget how the Cubs Curse was ended in 2016.
About the Contributor
Liam Ginsburg, Staff Reporter
Hello! My name is Liam. I live in Pelham with my mom, dad, Conor (little brother) and Cathleen (little sister). I love to play soccer, to read. I have...