Mr.Dacquino talks about his books at Colonial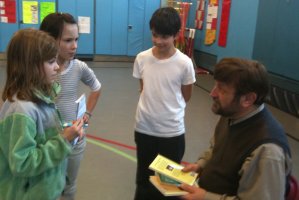 COLONIAL SCHOOL — Author Vincent Dacquino came to a town meeting on March 18 to talk about Sybil Ludington, the female Paul Revere. He wrote Sybil Ludington: Discovering the Life of a Revolutionary War Hero and is currently teaching at the Pelham Middle School. You can visit his website by clicking here.

Q: How many books have you written?
A: "About a dozen, and three are in Barnes and Noble and three are only sold in schools."
Q: What made you want to write about Sybil Ludington?
A: "I passed her sign while driving, and she practically rode right in my backyard. She is kind of like a neighbor. I wanted to learn more about her."
Q: How many books have you written about Sybil?
A: "Two, an adult one and a kids one."
Q: Are you going to write more books?
A: "Absolutely, one about Rosa Parks."
Editor's note: Mr. Dacquino's appearance was part of Colonial's celebration of Women in History Month and sales of his book during the event benefited the PTA.
About the Contributors
Alexandra Broege, News Editor
Hello, my name is Alexandra Broege. I was born in White Plains, Oct. 18, 2001. I am ten (10) years old. I play the sports volleyball, soccer, lacrosse...
Claudia Dodge, Sports Editor
Hi my name is Claudia Dodge and I love being part of the newspaper for the second year and being a sports editor. I am in fifth grade. I love playing lacrosse...