Dateline producer talks about scares and fun of TV news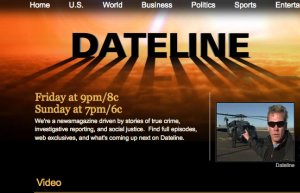 COLONIAL SCHOOL LIBRARY — Ms Sue Simpson, a producer at Dateline NBC, told the newspaper club the scariest part of making news stories for TV is seeing if people liked them and how many people watched. Ms Simpson's son Joshua is in 1A.
In a talk with the club on April 7, Ms Simpson said that whenever there's a story, she has to go to the scene and interview people. She said it's really fun shooting stories, and she brings three to 10 cameras to a scene.
She said that she likes answering and asking questions, and she has worked at NBC for 25 years. When she finds a story idea, she takes it to her boss, but nine out of ten times, her boss tells her to get a new story.
Dateline NBC is a news magazine show that airs on Fridays and Sundays.
About the Contributor
Henry Driesen, Sports Editor
My name is Henry Driesen and I am 10 years old and I was born in Norwalk, Connecticut. I enjoy playing sports like soccer, baseball and football. My favorite...