Fifth graders DARE to make right decisions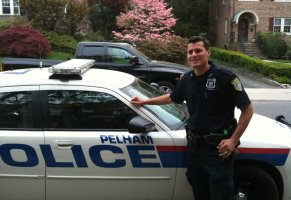 PMHS AUDITORIUM — The fifth graders graduated from the DARE program at a ceremony here on April 8.
DARE is a program that teaches fifth graders about making the right decisions, said Pelham Police Officer Brian Hendrie. It's not all about drugs, though; it is also about alcohol and tobacco. Kids have to go through a test to graduate from DARE, and to do this, they have to write an essay about what they learned, said Officer Hendrie.
"DARE is a program where officers go into schools and teach fifth graders about making healthy decisions in every day life," said Officer Hendrie, whose wife Mrs. Laura Hendrie teachers first grade at Colonial.
DARE stands for:
Drug
Abuse
Resistance
Education
"They have to take classes for DARE," said Mrs. Wilson, principal of Colonial. "Then they have to write a paper about what they learned in DARE."
About the Contributor
Patrick Zahradnik, Staff Reporter
I was born in Russia on January 19, 2001. I was very intelligent and cute, so do you like me now? My dad, Rich Zahradnik, runs the newspaper club. A...