Peer mediators patrol the playground solving problems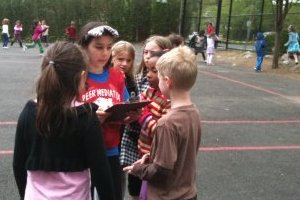 THE PLAYGROUND — The peer mediators are on patrol. The mediators are students who were selected by their peers to help kids solve problems, said Mrs. Gashi, fifth-grade teacher and adviser to the mediators.
Peer mediators are not like the safety patrol, said Mrs. Gashi. Safety patrol can get kids in trouble, but peer mediators can not. She also said that if the problem is physical, kids should go to a teacher, but if it's a disagreement they should go to a peer mediator.
For it to work, you have to agree to do peer mediation. There will be two peer mediators on the playground each day, said Mrs. Gashi, who has been teaching the peer mediators for seven years. Training takes four days.
Jillian Harrison, a peer mediator in 5V, has solved four conflicts, while Owen Anastas, a member of the patrol also in 5V,  has handled seven. They both said that being a peer mediator is fun, but it's work. They also said that they are honored to be peer mediators. Some of the cases they solved included friend disputes, broken promises, stealing things and chasing.
About the Contributor
Henry Driesen, Sports Editor
My name is Henry Driesen and I am 10 years old and I was born in Norwalk, Connecticut. I enjoy playing sports like soccer, baseball and football. My favorite...