Colonial Times staffers see presses running, learn about production at Herald Community Newspapers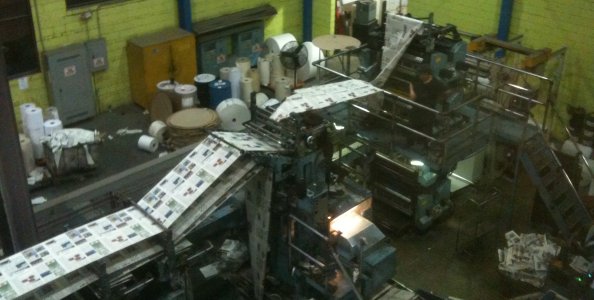 GARDEN CITY, N.Y. – Reporters and editors from the Colonial Times took a trip today to Herald Community Newspapers, where 17 newspapers are published. The company also prints papers for other companies, including the Pelham Weekly.
Herald Community Newspapers publishes 12 different Heralds, as well as the Oyster Bay Guardian, Jewish Star, Rockaway Journal, Long Island Graphic and Riverdale Press, said Executive Editor John O'Connell. In addition to the Pelham Weekly, the company contract prints the daily New York Law Journal, the Scarsdale Enquirer and high school and college papers.
Mr. O'Connell, who has worked at the company for 17 years, talked about what attracted him to reporting.
"When I went to college, my favorite subjects were English, reading, writing and that kind of stuff," said Mr. O'Connell. "I got a job at a newspaper and an assignment from a travel magazine. I got to travel and write."
The highlight of the visit for the Colonial Times staffers was seeing the newspaper press in operation. The web offset press can print 35,000 newspapers per hour, said Mr. O'Connell. The ink used to print the newspapers is natural because it is made from soybeans and it comes in four colors—cyan, magenta, black and yellow.
"I thought it was very interesting," said Beth Braun, a trip chaperone and mother of Colonial Times staffer Callie Leff (4C) and Isaac Leff (2C). "I've never seen a press. I enjoyed the field trip very much."
The Nassau Herald, the first in the Herald chain, started publishing in 1925.
One of the biggest stories Herald Community Newspapers covered in the past six months was Hurricane Irene, said Kevin Plaut of Richner Communications, the parent company of the Herald papers. Some of the Herald's staffers were outside during the storm getting pictures, he said.
Mr. O'Connell said Herald Community Newspapers also has a website, and that maybe in the distant future they might go all digital. But that is probably a long way off.
Contributing to this story were Helena White, Annika Jawanda, Manon Bushong, Ava Knapp, William Campisano, Anna Shampanier-Bowen, Francesca Di Cristofano, Ella Deyoung, Callie Leff, Peyton Rees, Lynn Dvorkin, Emilia Privat, Patrick Zahradnik, Daniel Bernstein, Sam Rodd, Henry Driesen, Lindsay McNamara, Luke Matos, Richard Che and Daniella Cherner.
Leave a Comment