Mr. Tromblee teaches Colonial Times staff about Internet safety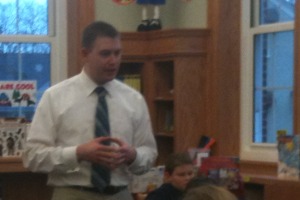 COLONIAL LIBARY — Mr. Michael Tromblee, director of technology for the Pelham Union Free School District, came to teach the Colonial Times staff about Internet safety in January.
He explained how dangerous the Internet can be if used incorrectly. He said talking strangers is bad in the real world, and the same is true on the Internet. You can click on a link and get a viris and that can damage your computer, he said.
A lot of people think the subject of Internet safety is boring. But it's really important to learn if you want to use the computer when you get older. If you know Internet safety, you'll be able to prevent bad things from happening.
Mr Tromblee gave these Internet safety tips:
Don't talk to strangers online. They may try to get important imformation out of you.
If someone is being inappropriate or mean, tell an adulty immediately.
Don't give away personal information in your character name in an online chatroom or game. (For example, soccer girl gives away that you're a girl, or Newyorker5 would say the state you live in.)
Mr. Tromblee told us that his professor in college made a fake website showing a beautiful place in Minnesota and saying that it had elegant beaches and fabulous hotels. He had a link on the front page saying that it was completely fake. But a German couple must have missed it because they spent their life savings to go there. When they got there, they were extremly disappointed. Other people believed the site was real and used it when doing research on the Internet.
In the end, the main point was just because it's on the Internet, that doesn't mean it's true.
About the Contributors
Peyton Rees, News Editor
Hi! I really like sleeping and soccer. My favorite food is brownie batter! I really like being an editor and I can't wait for middle school! I love being...
Lindsay McNamara, Community Editor
I am really really really really really really really really really really really really really really really really really really really really really...