Colonial's multi-talented, next-door neighbor writes books, gives talks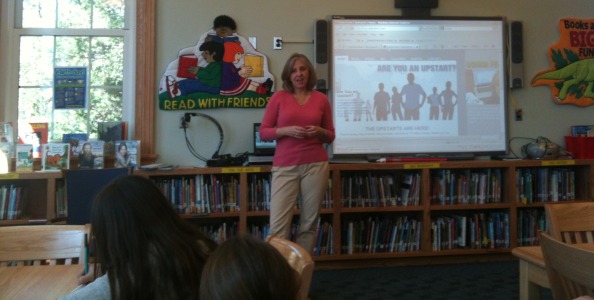 COLONIAL LIBRARY — Most students don't know Colonial School's multi-talented next-door neighbor, Ms. Donna Fenn. She has written two books and she came to talk to the Colonial Times staff about her journalism career.
Ms Fenn went to George Washington University. After that, she lived in Washington, D.C., and worked at The Washington Monthly covering politics. (Click here to read about what it's like to live right next door to Colonial.)
When Ms Fenn lived in Saudi Arabia, she was working when the first Gulf War was going on with bombs dropping.
"My books have about eighty-thousand words each," she said. "Also it isn't the number of words in the book, it really is the chapters and how they lead one thing to another" that really matters.
When Ms. Fenn is stuck writing, she usually talks to people who know more to help her figure out what else to put in her books. What she learns from other people is important. She also takes trips all over the place to talk about business at conferences. These sometimes last about half a day.
Ms Fenn also has a website about her books. Her books are called "Alpha Dogs: How Your Small Business Can Become a Leader of the Pack" and "Upstarts! How GenY Entrepreneurs are Rocking the World of Business and 8 Ways You Can Profit from Their Success."
About the Contributors
Carly McNamara, Stundent Life Editor
Hi, my name is Carly McNamara, and I am an editor of the Colonial School Times. My hobbies include dancing, gymnastics, basketball,  diving, all types...