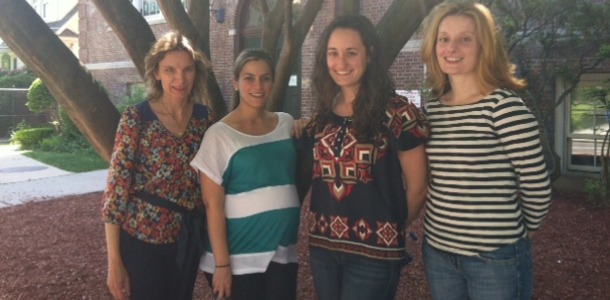 COLONIAL CLASSROOMS — This year many new teachers joined Colonial School. They included Ms Sophia Shkreli, Mrs. Jennifer Delaney, Ms Piera Hattar and Mrs. Mary Goldszer.
MRS. GOLDSZER
Mrs. Goldszer teaches fifth grade and study skills.
"I love working with students," she said. "It's fun to watch them grow academically, and I hope to make all students lifelong lovers of learning."
She started teaching her class mid-year and added, "It was a challenging and exciting experience to start in the middle of the year."
"She's nice, and she has a good style of teaching," said William Campisano.
Added Elizabeth Kleiner, "I really like her teaching skills, and she's really nice."
Because she teaches fifth grade, students switch classes, so she gets to teach 5G and 5V too.
"Mrs. Goldszer is really nice and pushes us to get ready for middle school," said Claudia Dodge.
Mrs. Goldszer likes to work with all the teachers. "Both teachers and parents are very nice and fun to work with," she said.
"I loved my first year at Colonial! The students are fabulous and very friendly."
Hopefully, Mrs. Goldszer will continue to teach fifth grade and study skills.
MS SHKRELI
Ms Shkreli, who teaches Kindergarten, said, "My first year at Colonial was exceptional. It exceeded all my expectations, and I feel honored and lucky."
When she was younger, she didn't even think that she was going to be a teacher, but after college she discovered that was what she wanted to do. She prefers younger kids, which is why she works here as a Kindergarten teacher, adding to the big Colonial family.
Ms Shkreli isn't the only one who's glad she came to teach here. Her students are happy, and they seem to like her a lot.
"She's really nice, and she makes a lot of fun projects," said William Crotty. "And she reads nice stories."
"I really like her. She's nice and she makes fun cheers about GROWL," said Elizabeth Doak.
Those two students were just a sample of all the students who love Ms Shkreli as a teacher. She really enjoys teaching.
Ms Shkreli said her favorite part of the job is "when kids make connections with their own lives. It's really inspiring."
She has plans to make next year even more enjoyable. She wants to incorporate the Habits of Mind program into her class.
"It's where kids learn to adapt to the best way to deal with a conflict," she explained. This sounded like a good program filled with skills for her students to learn at a young age for future purposes.
"I love to teach Kindergarten, but if there's a call, I'm flexible to do all grades," she said. "The staff here is so supportive and nice. I hope I stay longer."
MS HATTAR
Ms Hattar, who teaches second grade, first had her mind set on a career in art.
"When I was younger, I wanted to be an artist. I love to use pencils and crayons to make art," she said. "I like to draw and paint too." But growing up she eventually decided to be a teacher and is glad she did.
When she was young, her dad was a teacher. "He took me to work one day, and it went on from there."
She's taught in the Bronx and has taught grades second through fifth. She seems flexible and open to teaching where she's not used to it.
Ms Hattar likes teaching because of the impact she can have on kids. "I like when students understand something that they didn't before," she said. "You can see it in their eyes. It's inspiring."
Her most memorable moment was being welcomed by the Colonial staff.
After she joined the Colonial team, she said she fit right in. She got along with all of the other teachers really well.
And her students like her too.
"Ms Hattar is nice, and she's good at teaching, and she's the best at math and writing," said Jack Tirsch.
"She's nice and really good at teaching," said Eileen Mazzaro.
Ms Hattar enjoys teaching second grade and hopes to keep on doing it.
MRS. DELANEY
Mrs. Delaney is a music teacher for Colonial School who started in the fall of 2011.
"When I was growing up, I loved music, and when I got to college, I decided to use my music abilities to do something positive," said Mrs. Delaney.
This isn't her first time teaching music.
"I've taught at a school district called Minisink Valley Central Schools, and I taught there for two years," she said. "I knew from a young age I wanted to be a teacher." But she did say that if she had to pick some other career she would become a vet.
"My most memorable experience at Colonial School was not one moment," she said. "It has happened over time. It has been getting to know each and every one of my wonderful students. Their enthusiasm and different personalities have made this year one I will never forget."
"My favorite part is when I see that kids are enjoying music, and I feel like I did a good job," she added.
The students have good things to say about taking her class.
"I like it because music class is a lot of fun," said Grace Colkin (1C).
Added Carolina Juana (5Gold), "I think she's nice, and she is awesome."
"She's fun, and she has a nice voice," said Adie Howey (5Gold).
Many like her song choices. Mrs. Delany is a great teacher and lots of fun. Our favorite part is when we listen to music and write things about what we heard.
A lot of new teachers joined the school this year in all different grades. The students really like all of them. Hopefully, many more will join the Colonial School family next year.
(This story was originally published in the printed year-in-review edition of the Colonial Times.)